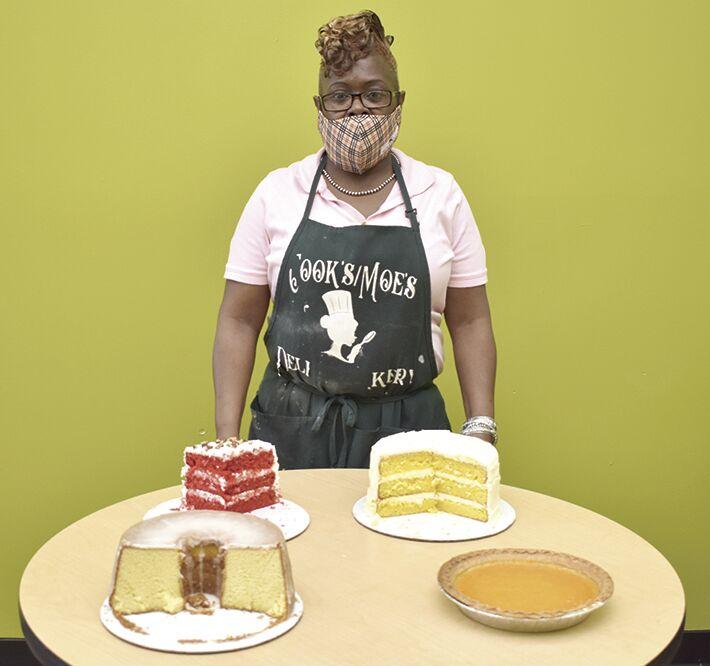 It is often said that most businesses fail within five years. For a business to survive for over 40 years, it has to be doing something right.
One such business is Cook's and Moe's Deli & Bakery. Under the ownership of Ojetta Rease, the restaurant has served the community for 41 years.
The restaurant was founded in 1980 by Joe Cook, Ojetta's father. His journey into the restaurant business started when he was a child.
"As a child, he used to get into a lot of trouble," Ojetta said. "He was sent off to reform school. At reform school, he learned how to cook. He enjoyed cooking, so when he got out, he got a job at a bakery."
Joe Cook had found his calling. Eventually, he decided to open his own bakery. He launched Cook's Bakery on North Main Street in 1980.
"He started the bakery with $500 that he borrowed from his mom," Ojetta said. "It was just ice cream and bakery items. Over the years, he added hot dogs, which became very popular here in Columbia. That recipe for his hot dogs went a long way. And then he took a chance on doing dinners."
Even though she loved to cook, Ojetta said that she didn't work at Cook's very much as a youngster.
"As a young child, I've always enjoyed cooking," she recalled. "When you do something that you enjoy, it's not really work. I ended up helping him more as I got older, in my late 30s and 40s. He brought me in and taught me how to bake his cakes and things. I learned a lot from him."
Two years ago, Joe Cook was ready to retire. Ojetta took over the restaurant and renamed it Cook's and Moe's Deli & Bakery.
"Moe is dedicated to my mom," she said. "Her name was Moretta, and she passed away. I wanted to keep my dad's name and I wanted to add my mom's name."
Ojetta said that the community supported Cook's over the decades because of the consistent quality of its food. That is a tradition that she is determined to continue.
"When I come in, I cook all of my own food. I like consistency. I try to have my food taste the same way every time someone comes in. I don't want it to taste this way one day and then the next day it tastes very different," she says.
Cook's and Moe's Deli & Bakery sells a variety of home-cooked meals.
"One of my most popular items is my oxtail dinner," Ojetta said. "It is $14.99, and it is well worth the price. My plates are not skimpy, and I make sure you get your money's worth. Everything I cook is fresh – macaroni, candy yams, potato salad, mashed potatoes -- everything is cut fresh every morning."
Using fresh ingredients and cooking everything from scratch is the key to the restaurant's success.
"I fry fresh chicken and pork chop every morning," she continued. "I make homemade meatloaf and cornbread from scratch. My regular dinners are just $9.99 and that's with one meat and three sides, cornbread or dinner rolls. I don't put any pork in my food."
In addition to its dinners, Cook's still has an extensive line of bakery items. Popular pies include sweet potato pie, pecan pie, peach pie, homemade apple pie and key lime pie. Popular cakes include red velvet cake, sour cream pound, lemon pound cake, yellow cake with chocolate icing and lemon layer cake. In addition, the bakery creates wedding, birthday and specialty cakes for all occasions.
The restaurant is open Tuesday – Friday from 11 a.m. – 4 p.m., and on Sunday from 11 a.m. – 4 - p.m. Cook's begins taking call-in orders at 9 a.m. Sunday is oxtail day, and customers also have their choice of at least 6 – 7 different meats. Also on Sunday, many customers call in advance just to order a pan of spaghetti to take home.
"I make handmade meatballs," Ojetta says. "I do the spaghetti pans by request."
Cook's also offers catering services. The company can cater just about any type of event, covering everything from box lunches to sit-down banquets to parties.
"I cater for all types of parties -- wedding parties, bachelorette parties, birthday parties. I cook the food, deliver the food and serve it if necessary. We required at least a 72-hour notice in advance for parties of 50 or less, and a two-week notice for parties of 50 or more," Oetta said.
Cook's offers delivery with a 15-mile radius of the restaurant for orders of $20 or more. Ojetta says she offers her own delivery service because she didn't like the service her customers received from outside delivery companies.
"I used to use BiteSquad and other services, but I don't like for my food to be messed up. I would give them my food, and when it gets to a customer something is missing or something is wrong. I'm more comfortable with delivering my own."
Ojetta says that her long-term plans include adding additional staff members and opening a second location.
Ojetta says that since the North Main Street community has supported her family for over four decades, she is committed to giving back.
"I think this comes from my mom, but I do feed the needy," Ojetta says. "If someone comes and asks you for some food, that means they are really hungry. So I will feed the homeless and the needy."
Ojetta says she is grateful for the support the community has given Cook's over the past 41 years.
"A collective community of people came together to keep my dad going," Ojetta says. "I think my dad felt as though he was blessed by his mom (when she invested in him to open the restaurant). And it's crazy, because I think the same thing. I feel like I'm being blessed."
Cook's & Moe's Deli & Bakery is located in the Northside Plaza at 6315 North Main Street in Columbia. If you would like Cook's to cater your next event or want to place a takeout order, call (803) 995-6007.