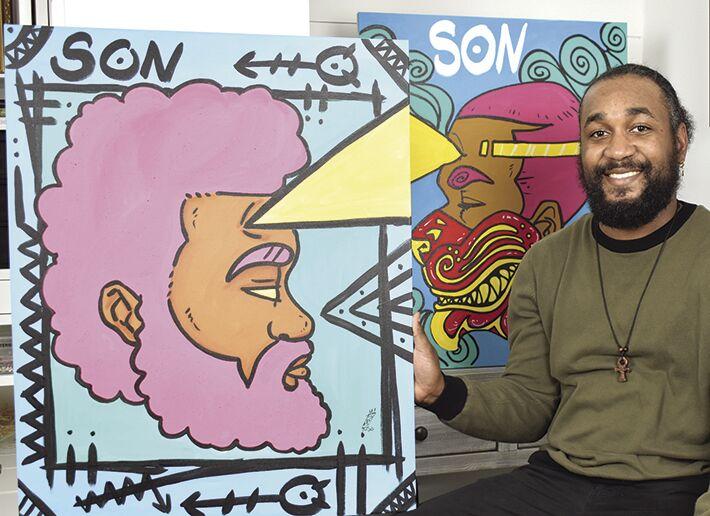 This month's Auntie Karen "Think Big Know Bigger" Success Story features Dominique Hodge, aka Jakeem Da Dream; Da Dream Designs, owner.
Interested in Afrocentric and Afrofuturstic artwork? Meet Dominique Hodge, aka Jakeem Da Dream. Dominique is a visual artist, muralist, and teacher specializing in acrylic paint. Most of his images are rooted in Afrocentric themes. His offerings include original paintings, commission paintings, live paintings, prints, clothing/apparel, murals, and coloring books. Original paintings start at $250.
When asked how long have you been an artist? Dominique responds, "I came out the womb an artist: However, he decided he wanted to be an artist in the sixth grade. He loved to draw and do animation and felt like he could make a living from his art despite being told to "Get A Real Job."
Dominique has been a part of the Auntie Karen Artpreneur Program since 2019. Lisa Macon met Dominique at a Business Expo and felt that he would be the perfect match for the foundation. Dominique plays a significant role in providing art to youth in rural communities. He's worked in several rural communities in South Carolina. In Hardeeville, Timmonsville, Greeleyville, and Kingstree, he works with majority-minority students. "The look on the faces of the students is what brings him joy.
Dominique's Advice for artists is to "Be Consistent. Be a Student, Believe in Yourself."
For more information about Dominique Hodge, call (803) 757-4556 or email dadreamdesigns@gmail.com. He can also be reached via social media on Facebook at www.facebook.com/dadreamdesigns or Instagram at www.instagram.com/dadreamdesigns/
About The Auntie Karen Foundation
Since 2003, The Auntie Karen Foundation has presented the annual Young Entrepreneurs Conference. This innovative conference brings youth from across the region together to foster economic empowerment. Visit Auntie Karen Biz Chat https://www.auntiekaren.org/learning-center to hear stories of some outstanding youth entrepreneurs.
The Auntie Karen Foundation is a global 501(c) 3 charitable corporation based in Columbia, SC. To learn more about the Auntie Karen Foundation, visit www.auntiekaren.org. #thinkbigknowbigger ###