Art has the power to transform lives. One of the main goals of artists are to use their talents to make the world a better place. A local woman, Yolonda Yvette Sims, is dedicating her life to using her artistic writing skills to teach important, life-changing lessons to people of all ages. Sims is the founder and creative force behind the FAOZ Theater Production Company.
Sims is a native of Columbia.
"As a child, my interest was singing, dancing, and writing poetry," Sims recalled. "I was always writing when I was a child. I wrote my own songs, and then sang the songs to my mother. I was always active in something, whether it was pageants, plays, whatever. My mother was always right there, supporting me in everything I did."
Sims attended A.C. Flora High School, where she graduated in 1984. She was selected "Most Talented Female" of her senior class and won 1st runner up in the Miss A.C. Flora pageant 1983.
After high school, Sims attended Voorhees College, where she earned a Bachelor of Science Degree in Sociology. While at Voorhees, Sims was the coordinator of the Voorhees College Dance Team, performing jazz, modern dance, and ballet. She also competed in pageants, winning titles such as Miss Alpha Phi Alpha.
After earning her degree, Sims went to South Carolina State to earn her Masters. Even though she was in grad school, she still had a desire to participate in the performing arts.
"I went to Dr. Clarence Murray (head of the theater department), and I said, 'Listen, I know you have to give more attention to these undergrads who are majoring in theatre. But this is also a passion of mine. As a graduate student, can I still be a part of the Henderson Davis theater?' He said, 'I don't see why you cannot'," Sims said.
Sims performed in stage plays such as Bubbling Brown Sugar and The WIZ, where she starred as Dorothy. She won awards for her acting skills. Sims was named Best Actress of the Year 1990 for SC State University while attending The Black Collegiate Summit Theater on the campus of Howard University in Washington DC.
"Performing made my graduate school time so much fun," Sims recalled.
After earning her Masters, Sims got a job working at the Department of Social Services. But the desire to write and perform never left her. So in 2014, she started writing plays and founded the FAOZ Theater Production Company. FAOZ stands for Faith, Awareness, Opportunities and Zeal – four words that guide Sims' life.
After she had written a few plays, her cousin put her in contact with Leasharn Hopkins, the founder of New Life Production.
"She fell in love with my writing," Sims recalled. "She said, 'Yolanda, you got too many stories, and you should not be sitting on your gift. You need to start doing something with this. Why are you sitting on all of your wealth?'"
Hopkins' company did two of Sims' plays: Love & Different Shades and Behind the Shadows: A Woman's Nightmare.
That inspired Sims to write more plays. She wrote But You Said You Love Me, a play about the four stages of domestic abuse.
"I had this play produced dealing with the four cycles of abuse and what it actually really looks like in a relationship. And most people don't even know the cycles of abuse, and then they're in a relationship and don't even know they are being abused," Sims said.
So far, Sims has written seven plays dealing with a wide variety of situations, such as foster care, family secrets, drug abuse, depression, etc. Sims says that her plays are designed to help people understand their situations and help them heal.
"I have several plays that I have already written," Sims said. "Now I'm ready to launch them on the bigger stages. What I've been doing was just very intimate settings, because I wanted to see the reactions of small audiences first. Because if you get good reactions from small audiences, then you know big audiences will like them. So now my goal is to do an actual stage production. You don't just go jumping up into the Township. You got to take gradual steps. And since 2014, that's what I've been doing -- taking gradual steps."
Currently, Sims is working on a play for young audiences entitled When I Was Bullied.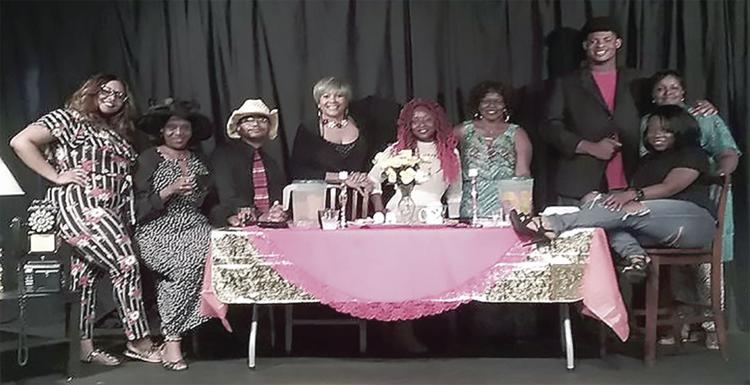 "I'm working on that one now because the children are going to perform at the end of the summer camp at the Park & Recreation Department on Parklane," Sims says.
Like most of her other plays, this one is deeply personal for Sims.
"When kids are frequently the targets of bullying, it affects their social, emotional, and psychological development. When I Was Bullied tells the story of a young girl and this is my story, too. I was bullied in elementary school, middle school and my ninth grade year -- and even in my freshman year of college."
"Bullying makes an individual feel worthless," Sims continued. "It causes an individual to second guess their life skills and social skills. They become loners, introverted, extremely fearful and insecure."
Sims says this play, her eighth, will help parents and kids learn how to deal with bullying.
"I want the parents to sit in so they can learn some skills and tips on how to help their children," she said.
Sims says her long-term plans is to build a production company like her idol, Tyler Perry.
"Meeting Tyler Perry would be a dream come true," Sims said.
To showcase her work, Sims is hosting a celebration on Saturday, June 29. The celebration will be held at the Empowerment Zone building, located at 1509 Lady Street in Columbia, beginning at 5 p.m. There will be light refreshments, spoken poetry and a free performance of Love & Different Shades.
To learn more about FAOZ Theater Production Company, visit www.faoztheaterproductions.com or contact Sims at (803) 556-4518, or via e-mail at Simsyolonda9@gmail.com. FAOZ is located in the City of Columbia Empowerment Zone, located at 1509 Lady Street.