BUSINESS OF THE WEEK
Born and raised in Columbia and Hopkins, SC, Kayla "K-Roc" Middleton founded Thrash The Smash Room in 2020 as a "place for people from all walks of life without the boundaries of race or economic structure" to "let go and take your power back." Thrash The Smash Room, otherwise known as a rage or wrecking room, officially opened for business on February 27, 2021 and is located at 7509 Garners Ferry Road Suite B Columbia, SC 29209 in East Pointe Plaza.
Middleton noted how the smash room concept was a "vision from God" and how she conducted further research on this concept that originated in Japan and made its way to the United States.
"When people walk in, we greet them with a 'Welcome to Thrash! Did you come to break something today?'" said Middleton. "That's always the question I ask them, because I get a lot of people in there that still want to just get information because the concept is so new. A lot of people don't know about it."
According to Middleton, an experience at Thrash The Smash Room continues after the greeting, with staff members who set up the rooms for destruction based upon the session chosen by guests. Meanwhile, the guests enjoy playing dartboard, basketball or other games while they wait in the lobby.
Services offered at Thrash The Smash Room include five different "smash" packages: SayOne - $35 (2 Smashers Max), KeKe - $65 (3 Smashers Max), Dirty Red - $125 (4 Smashers Max), JayBo - $200 (8 Smashers Max), and Corporate Team-Build-O-Rama - $285 (12 Employee Smashers Max). Middleton noted how the first four packages are respectfully named after family members who have passed and celebrate with her on the other side of eternity.
For each session, guests receive protective gear and get to smash objects such as glass bottles, TVs and radios.
"I can honestly say, everybody I've had in there, even from the people that were like totally stressed out to the ones that didn't know that they were stressed out, they always leave with a smile on their face," said Middleton.
She further mentioned how people have travelled from all over to visit her business, including guests from Myrtle Beach, Greenville, Charleston, and even Duluth, GA.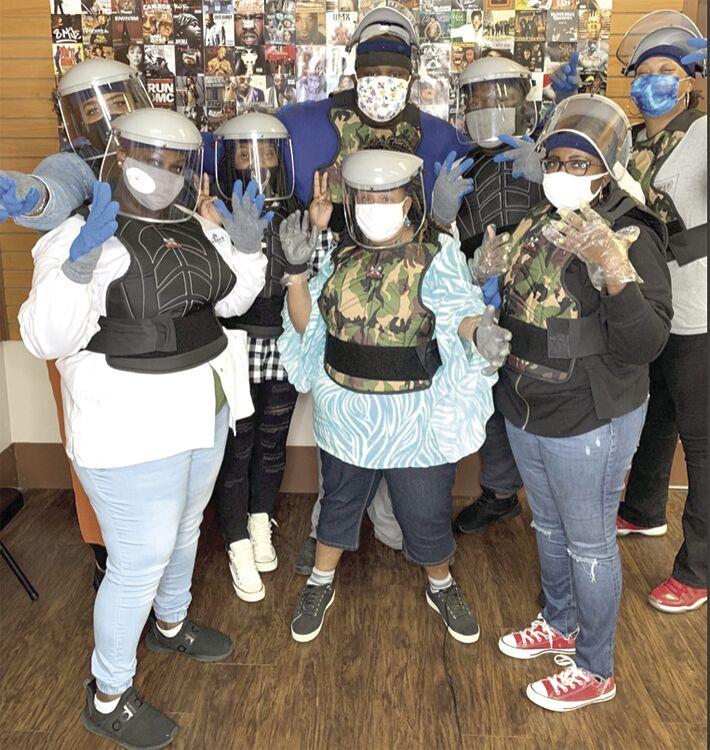 "I got testimonies of people that have come through since I've been open, from people who are grieving to people who are just everyday stressed out to people who are lunch break stressed out to people that just don't know they're stressed out but come in just because they know it's something different to do, and they all say they feel lighter when they leave."
Alongside her successes, Middleton also mentioned some of her challenges with opening the business, including obtaining correct permits, finding reliable contractors, and getting insurance in the midst of COVID. Despite the challenges, Middleton remained dedicated to her vision and kept the faith.
"It was an all-in type of situation. I believed in the potential impact that it could make in the community," she said. "I'm so grateful and blessed to be in a position where I can wake up every day now and feel good about what I do, because I wasn't living like this before. I love the fact that I can help people get through something."
Hours of operation for Thrash The Smash Room are: Sunday - Closed, Monday - Appointment Only, Tuesday - Thursday - 12:00 p.m.-7:00 p.m., and Friday and Saturday - 12:00 p.m.-12:00 a.m. You can contact the business via phone at (803) 466-7726 or email breaksomething@breakinthrash.com. To schedule a session, visit their website at https://breakinthrash.com.