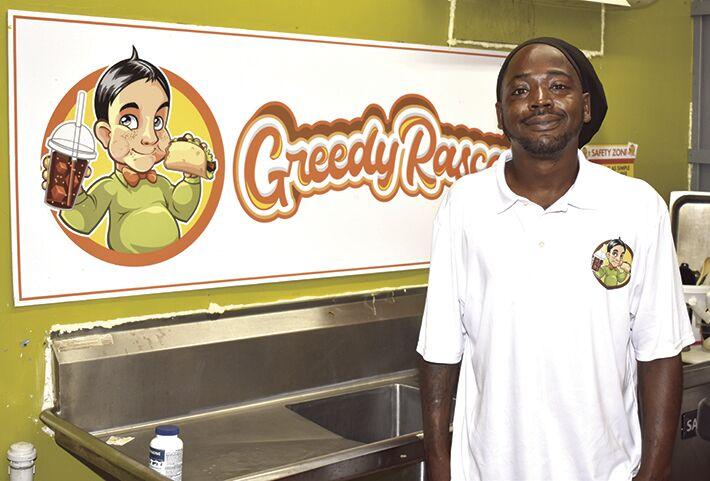 Columbia native Brandon C. Johnson has always had three loves: clothes, cars and food. A 1998 graduate of Ridge View High School, his entrepreneurial interests have been focused on those three areas.
At the age of 13, he got his first job working at Mista Brown's Seafood on Monticello Road.
"My first job was scaling fish," Johnson recalled. "Mista Brown taught me the business and how to make money the right way. I was his sidekick at age 13. I learned and wanted to have a restaurant of my own because of him."
Johnson worked for Mista Brown until he turned 16. He also started his first venture selling shoes.
"In school, I was known as the sneaker guy," Johnson said. "I would be at the gas stations selling shoes. My mom's family is from the New York / New Jersey area. You could go to Manhattan or Chinatown and get shoes for $20 - $30. I would come back and sell them."
Johnson sold enough shoes that he was able to open a clothing kiosk with his brother in Magnolia Mall in Florence. The brothers ran the kiosk for four years.
Johnson eventually decided to come back to Columbia. He opened an urban fashion store in Sandhills called Street Trends. Unfortunately, the store didn't fit the demographics of the area, and it wasn't successful.
Johnson studied culinary arts at the Culinary Art School of Charlotte. With his long experience working in restaurants, it was only natural that he return to the restaurant industry.
"I got together with my grandmother and my cousins, and we opened a family soul food fine dining restaurant on North Main Street. Unfortunately, my aunt passed, then my grandfather died, and it kind of threw us off."
The family closed the restaurant and sold the equipment.
Johnson also loves fixing up old cars, but quickly realized that it could never be anything more than a hobby. He decided to return to his food roots and open a new restaurant. He named it Greedy Rascals.
"The name comes from the fact that everyone in the world is greedy for something," Johnson says. "Everybody has a hunger for something. And everyone loves a rascal."
The concept behind Greedy Rascals is to provide "gourmet fair food."
"I want people to experience gourmet food but without the gourmet prices," Johns says. "Everything is made fresh, everything is homemade, and it is presented to you as if you are at a Five-Star restaurant."
Popular items include the Bucky Donut Burger, the Greedy Dog, and the Waffle Dog. The Waffle Dog is an all-beef hot dog cooked wrapped in a waffle and coated with Fruity Pebbles. The Bucky Donut Burger is a burger with bacon and onions that uses two glazed donuts as a bun.
"A lot of my creations are unique," Johnson says. "I went to culinary arts school, and new items just pop up in my head."
In addition to unique burgers and hot dogs, Greedy Rascals also serves gourmet sandwiches, donuts, smoothies, milkshakes, coffee, ice cream and gelato.
The restaurant does not serve pork products. Customers can substitute the beef with chicken, turkey, salmon or vegetarian products.
"We make our own chicken dogs," Johnson said. "We probably have the best chicken dogs in America."
Johnson says that he takes particular pride and producing everything in-house with fresh ingredients.
"My coleslaw is homemade and is the best in the world," Johnson said. "My chili is immaculate. They rated it as a 9.9, but I think it should have been rated a ten. It is some of the best chili you could ever taste. Our smoothies are made with fresh ingredients, and our milkshakes are made with real ice cream."
Kids menu items include personal pizzas, grilled cheese, cotton candy and popcorn.
Johnson says that he continues to dream up new items for the menu. This week, he created a fried pound cake ice cream sandwich.
"It was a top seller yesterday," Johnson said.
Johnson also has a line of beverages called Greedy Juice.
"It is made out of all fresh fruit and candy. We use the candy as a sweetener," he says. "People go crazy over it. It's a must-have."
In addition, Greedy Rascals also provides a catering service. Since they own a food truck, the company can cater just about any type of event and accommodate any size crowd.
"We specialize in sporting events, kids' events – anything that is family-oriented. We can do all types of events."
Greedy Rascals will open a second location in St. Andrews this September. It will be located on St. Andrews Road outside of the Chef Store. Long term plans include opening Greedy Rascals franchises worldwide.
"I want to make Greedy Rascals a household name worldwide, just like McDonalds," Johnson said. "I want the world to say 'we're greedy'."
When asked why he has been successful, Johnson says it is become he puts God first.
"We give him praise at all times. I am just a shadow of him and he works through me."
Greedy Rascals is located at 1900 Rosewood Drive in Columbia, SC. It is open Monday-Saturday from 11:30 a.m. – 7 p.m. You can place an order at (803) 977-3356, and delivery service is available through GrubHub and DoorDash.