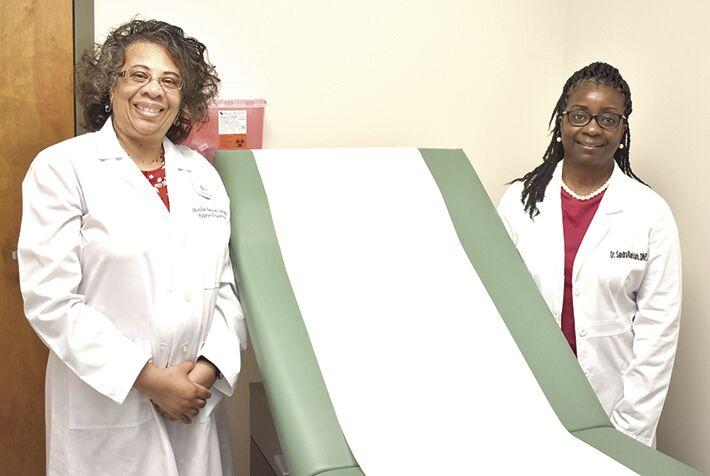 On January 14, 2021, Dr. Sheila Belton-Gaymon and Dr. Sandra Randolph declared Ivy Health Solutions, LLC open for business. Ivy Health Solutions, LLC is a nurse practitioner-owned and operated primary care clinic located in the medical office building at 4100 North Main Street in Columbia, SC.
According to Dr. Belton-Gaymon, the name Ivy Health Solution, LLC, was chosen to emphasize their commitment to be a solution to the health care needs of the surrounding communities. Together, Dr. Belton-Gaymon and Dr. Randolph have more than 30 years of experience in interdisciplinary medical practices, nurse practitioner-operated medical clinics, and as practice and clinic managers. Dr. Belton-Gaymon shared their dedication to utilizing their expertise to fulfill the mission of Ivy Health Solutions, LLC, which is to promote the health and well-being of the local population by providing convenient, accessible, high-quality and affordable health care.
"We felt that there was a need in the community for African-American female providers, and as nurse practitioners, we had been in the field for so long that we just felt that it was the time to do that," said Dr. Belton-Gaymon.
Dr. Belton-Gaymon noted how the clinic is committed to providing quality focused services that will be innovative and exceed the expectations of their patients. Ivy Health Solutions, LLC accepts Blue Cross Blue Shield, United Health Care, Tricare, Medicare, Medicaid, and cash paying patients. Services include acute care, chronic disease management, preventative health management, weight loss management, urine drug screens, screening/diagnostic testing, school/sports physical, pre-employment physicals, DOT physicals, TB screenings and substance use disorder treatment.
In regards to serving the African American community, Dr. Belton-Gaymon acknowledged the skepticism within the community when it comes to treatment by healthcare providers.
"I think we're having a significant impact, because as we know with African Americans, there has been some skepticism regards to being cared for by Caucasian providers. So, we want to impact the African American community and build that trust and build a relationship so that we can bridge that gap," she said.
Dr. Belton-Gaymon further commented on the clinic's dedication to provide a "safe zone" for patients, complimenting their "upbeat staff" and "relaxed atmosphere."
"When they walk through the door, they're greeted with a smile. We're always welcoming and trying to make them feel like they're part of our family," she said. "We treat them like how we would treat our family members."
As far as goals, Dr. Belton-Gaymon noted how the clinic is looking to partner with some elementary schools and others for their career day, as well as being preceptors for nurse practitioner students. She also noted how the clinic is willing to offer the COVID-19 vaccine, but they are currently listed as a potential site per DHEC.
Dr. Randolph shared their upcoming office blessing ceremony that will be held on April 24, 2021 and conducted by Pastor Andre T. Melvin of Temple Zion Baptist Church and Pastor Charles B. Jackson, Sr. of Brookland Baptist Church. Due to COVID, the ceremony will be closed to the public.
"It's an opportunity from the Lord to have this practice and have our pastors' blessings," said Dr. Randolph.
Ivy Health Solutions, LLC is accepting new patients. To schedule an appointment, you can call their office at (803) 814-2112. Hours of operation are Monday-Friday, 8 a.m. to 5 p.m., Saturday, 8 a.m. to 12 p.m., and closed on Sunday. Visit their website to learn more: https://ivyhealthsolutionsllc.com.