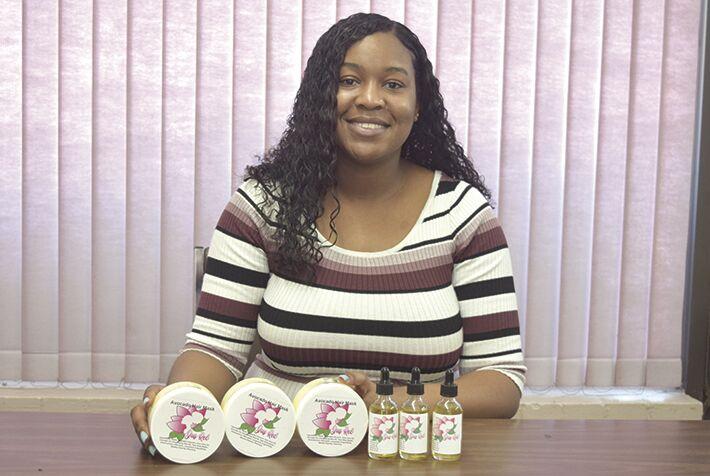 A hustler is defined as someone who will overcome any obstacle to accomplish a goal. Ariel Johnson, owner of hair care product company JusRel Organics, says that she was raised to be a hustler.
"I was born in Beaufort, South Carolina to Carl Johnson, a Marine and Tonya Johnson, a school teacher," Johnson said. "I traveled around a good bit until I moved here when I was about seven years old. I've been in Columbia ever since."
Johnson always dreamed of starting her own business.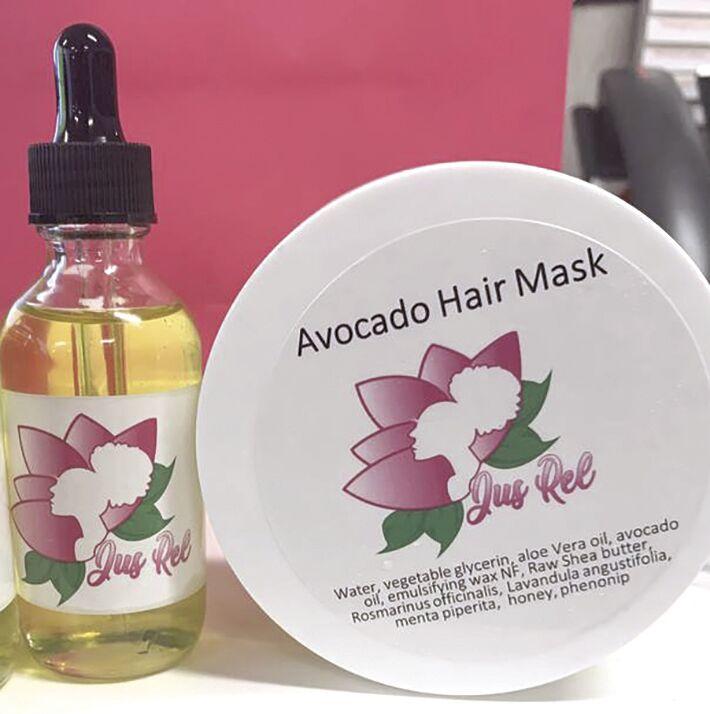 "My dad has always raised hustlers, so I've always found ways to try to make money. I raked lawns or made aprons that I learned how to sew when I was younger," she recalled.
Johnson graduated from Ridge View High School in 2010 and attended Strayer University online, studying human resources and accounting. Her desire to start her own business influenced her choice of majors.
"I wanted to be able to take care of my own business funding and be able to understand how to manage my own money without having to hire someone and not know what's going on," she said.
Johnson started her career working in corporate America, working at large companies such as Verizon and Wells Fargo.
"Every job that I worked, I tried to take a piece from that job so that I can build what I want in life and achieve what I want in my own business," she said. "I currently work at Wells Fargo in the banking industry, so I have a good understanding of how finances work. They also taught me a good way of dealing with customer service because I'm in the escalated complaints office. I know how to handle complaints when it deals with issues within a business as well."
Despite her corporate career, Johnson continued to develop ideas for her own business. She was particularly attracted to the hair care industry.
"I always have an obsession with hair," Johnson says. "I never wanted to do hair per se as a hairdresser, but I always wanted to figure out how to work with different hair textures."
Johnson was particularly interested in developing products for curly hair. Hair is classified by its thickness and texture. The curliest hair is classified as 4C. Johnson found this type of hair to be particularly challenging – and potentially lucrative, because there aren't many products aimed for people with this type of hair.
"I would mix things in my kitchen, whether it was avocados for protein and eggs or honey, to see what type of results it would have. When I was able to find something for the 4C hair, that kind of drove my focus. So when I came up with the conditioner, I mainly wanted to attract women with thicker hair. Women would tell me they loved how it would make their curls look."
To raise money for her hair care line, Johnson launched a t-shirt business.
"The main business that helped fund my hair care line was T-shirts. I purchased the heat pressing machine and a Cricut, because I realized that it was a lot of fast money. So I used that until I was able to save up enough money to get everything I needed for my hair business," Johnson said.
Johnson worked hard to perfect her formulas, using friends and family as test subjects.
"I would try things on my hair and my friends' and family's hair. I would research the products that I love the most and spend all day googling what each individual ingredient meant so that I can understand how it reacted and what its purpose was," she recalled.
Johnson spent a year testing and perfecting her products. She formed a company, JusRel Organics, to market her inventions. Her first product was an Avocado Hair Mask.
"It's based with avocado and aloe vera oil. The aloe vera promotes healing in your scalp. My mother had dandruff for years. She used my products for three months straight for her dandruff to subside. It has different essential oils that are beneficial for your hair. Lavender, rosemary and peppermint are all the top essential oils that stimulate hair growth by circulating blood flow in your scalp, allowing your follicles to be stimulated so that they can grow," she said.
Johnson's other product is the JusRel Potion Hair Oil.
"My hair oil is also mixed with aloe vera and avocado oil to promote the same healing benefits, but it has a different mixture of essential oils that are more stimulating for people with alopecia."
In March 2019, she started selling JusRel products on Etsy.com. Clients from across the country started ordering her products, so she created Facebook and Instagram pages to promote her company. She also launched a YouTube channel to educate clients on how to use her products.
"I have a YouTube channel to show how to use my products, showing the before and after of what it looks like, and what effects they have," Johnson said.
Johnson says the JusRel product line are aimed at both men and women. It is effective on all types of hair, not just 4C hair.
Johnson is currently developing a new shampoo, and other products.
"I've had plenty of requests for shampoos," she says. "Hopefully, we should have that introduced by the end of the year."
Recently, Johnson began promoting her products to barbers and beauticians. She was inspired to do so after reading about how legendary entrepreneur Madam C.J. Walker built a following for her hair care products by selling them through hair salons. Johnson wants to follow in her footsteps.
"If someone needs a thousand, I will make a way to have a thousand," Johnson says. "If you have people who are certified to do your hair and co-signing that your products are working, I think that would be the best way to let the community know about it."
JusRel Organics are available at Professional Cuts Barbershop on Jackson Boulevard in Columbia. It is the first of what Johnson hopes is thousands of locations selling her products nationwide.
"Barbershops and salons are my entry-level to showing the community that I'm serious about my hair care business and that it's here and it's here to stay," Johnson said. "We're trying to put South Carolina a little bit more on the map."
The Avocado Hair Mask sells for $15, and the Potion Hair Oil sells for $10. For the holidays, a gift set containing both products are available for $20.
To learn more about Jus Rel products or to make a purchase, visit https://www.jusrelorganics.com or find her on Facebook, Instagram, YouTube or Etsy.com.