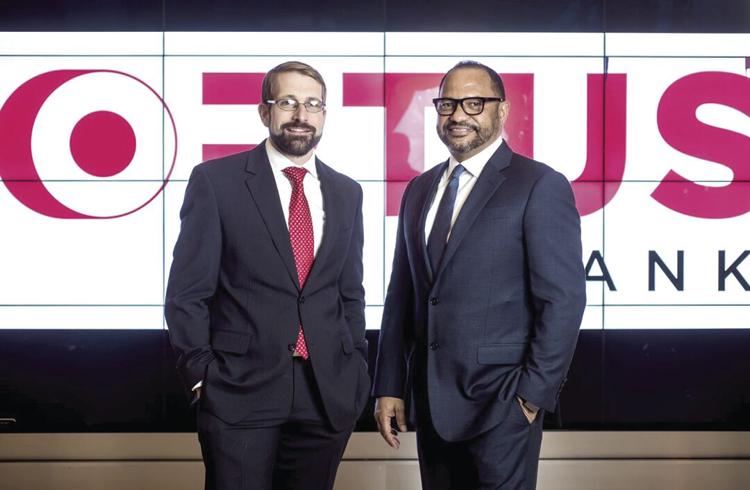 R&B singer, Billy Ocean, once sang, "When the going gets tough, the tough get going." This is exactly what Optus Bank did in going the extra mile to make sure it provided funds to minority-owned businesses enabling them to sustain during the COVID-19 crisis, and to thrive after. According to Board Chair, Paul Mitchell, increasing its ability to serve more local minority-owned businesses while providing relationship banking services to the entire community has fueled the continued success of Optus Bank.
A few years ago, Mitchell, who has served a Chairman since about 2012, knew Optus needed someone who was innovative and dynamic to reach the next level. That's when he found Dominik Mjartan to help lead Optus. One of the biggest challenges, Mjartan, an immigrant from the former Czechoslovakia, admits he's faced was convincing the community that the mission of this black-owned bank is not going to disappear but in fact grow. And that's exactly what has been happening. In recent years, the bank has more than tripled in size from its low point and received repeated national recognition for its positive impact on underserved people and small businesses. Even before the COVID-19 crisis hit, Optus Bank had made remarkable strides, earning distinction and additional investments from the U.S. Treasury's Community Development Financial Institution Fund. Optus has brought in more than $100 million in capital including investments, grants and deposits over the past three years and used that capital to create opportunities for thousands of people.
When Congress passed the CARES Act in March 2020 to provide immediate and direct assistance to families, workers, and small businesses, Optus was ready to participate. The CARES Act created a $350 billion Payroll Protection Plan (PPP) for small businesses. Employing its proven laser-like focus on helping small businesses, its lifeblood, Optus spent time with every applicant, regardless of business size. The staff worked to ensure every avenue was explored to make loans to those in need. Employees took their time and made the necessary phone calls to gather missing or incomplete information. Optus' "personal touch" approach made applicants feel more comfortable and trust that they had come to the right place to receive assistance.
In addition, Optus formed an alliance with the Columbia Minority Business Development Agency (MBDA) Business Center and its COVID-19 Program. This created a win-win scenario for all stakeholders: minority business applicants, the MBDA COVID-19 Program, the Optus Bank, and the Federal Government.
Through two rounds of loans, Optus Bank processed more than 500 PPP applications. Through the first CARES Act of PPP processing, the average amount approved for businesses was less than $184,000 and less than $22,000 for the second round. In total, Optus funded more than $40 million in loans to small and minority business, giving them potentially forgivable loans to help them stay afloat under the severe, economic consequences of COVID-19.
When CARES Act funding first became available, smaller firms were at a disadvantage. Neighborhood beauty and barbershops, family restaurants, auto mechanics, painters, and even funeral homes simply lacked the banking relationships needed to get immediate submission for the PPP. Compound that with credit unions, which many minority firms used for banking, originally, could not make the loans. Optus Bank was there for this group, with extended virtual hours and personalized services, processing, reviewing, and getting the information needed to make the loan packages approvable by the Small Business Administration (SBA).
According to bank president and CEO, Dominik Mjartan, the same combination of technology upgrades and relationship-building that helped get Optus on its rapid growth path, was what served it and its customers well when COVID-19 hit. Combine this with support from appointed and elected officials, the community, and large corporations and the much-needed financing was able to get to local businesses.
Optus' efforts to help others, particularly the underserved, paid off— not only in terms of businesses and jobs saved or created, but in reaping new depositary relationships for the bank. Larger banks, such as Bank of America, Synovus, and other regional financial institutions, had made deposits to increase the bank's capacity to make loans, while waiting for federal funding. On August 26th, PayPal, a worldwide corporation providing businesses and individuals with an online payment system, announced a $50 million depositary relationship with Optus Bank, a single largest infusion of capital into any minority owned bank in the U.S.
Currently Optus and the MBDA Center are working with an expert advisory committee to improve the bank's outreach to potential equity investors, needed to fuel the bank's supercharged growth trajectory. The goal is to raise at least $10 million in equity capital to allow the bank to reach at least $250 million in assets. Additionally, the Center has worked with the South Carolina Legislative Delegation to seek funds not expended under the CARES Act to go to community lenders, like Optus.
The bank's profile is on the rise in the community and gaining national attention. Optus Bank is no longer a bank of last resort but one of first choice.