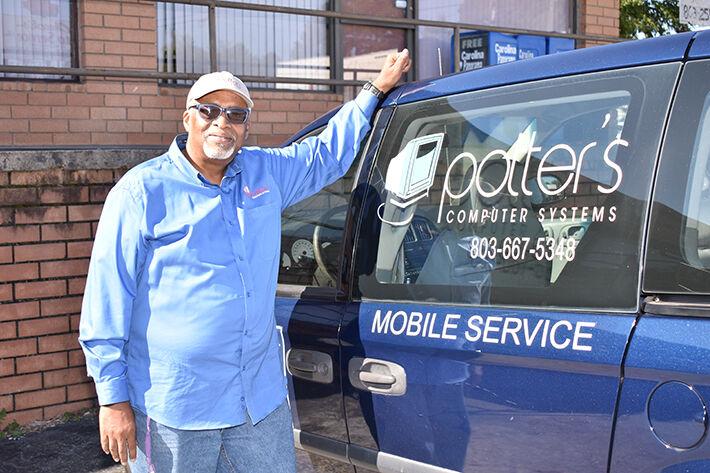 The key to surviving in business is learning how to adapt to challenging situations. Thomas K. Anderson, owner of Potter's Computer Systems, is a survivor.
Anderson grew up in Bronx, New York. After high school, he joined the military. After serving his country, he realized that in order to advance, he needed an education. So he moved to Washington DC and got a degree in computer science. He spent 17 years programming and working on mainframe computers before he was hired by Blue Cross Blue Shield and moved to South Carolina.
After four years of working at Blue Cross, Anderson decided that it was time to leave the corporate world. He stepped out on faith, and Potter's Computer Systems was born in 2002. The company, originally featured as our Business of the Week in May 2012, moved to a new retail location in Lugoff in 2014.
"I repair computers, I upgrade computers, and I sell new and refurbished computers – both laptops and desktops," said Anderson. "I also build small office networks and mid-size company networks. I install systems, repair systems and upgrade systems."
Anderson can also build a customized computer from scratch to the client's specifications.
"They can call me, give me the specs, and I can build it for them," said Anderson. "Or I can get it for them. Just give me a day and I will get them a price. I will always try to give them the best quality for the best price."
Anderson also repairs and services all major mobile devices.
"We also repair mobile devices – iPhones, iPads, iPods, Samsung, Blackberries, LG devices, Motorola, Nokia, HTCs. We are certified to repair virtually any type of mobile phone, tablet or mobile device," he said.
Business was good. Anderson even won the Business Partner of the Year Award from the Kershaw County Chamber of Commerce. Then the Coronavirus pandemic hit. Kershaw County was one of the first Coronavirus hotspots. Business dried up.
"Business had really decreased," Anderson said. "I had to use common sense because of the fact that I was cutting into my resources. I'm paying two rents, two electric bills, two telephones and other obligations running the business. So I had to close the shop and converted over to becoming a mobile service."
Since customers could no longer come to him, Anderson decided to go to the customers. Potter's Computer Systems became a fully-mobile service in September 2020.
"What I do is I go around to people's locations, pick up their computers and take it back to my house or another location. I fixed them up and bring it back to them within one or two days, depending on how heavy of a load that I got."
Potter's Computer Systems observes social distancing protocols.
"Normally, a lot of people don't like people coming into the house, but I'll meet you at the front door and pick up the computer," Anderson said. "And I'll take it and get $30 for the diagnostic. I'll call you back and tell you what needs to be done, and then you say yea or nay. And then I'll get it done."
Now based back in Columbia, Potter's Computer Systems services clients from Lexington to Camden. The company offers the same great services that they offered before going mobile. The company also builds databases and information systems for corporate and government agencies, automate offices and provide other Information Technology services.
In addition, Potter's now offers a new technology service called Digital Business Cards. These "cards" can be shared through mobile devices and unlike traditional paper business cards, they include things such as company information videos, links to text and e-mail, business order forms and more.
"Someone can even just take a snapshot of a QR code and learn everything about your business. This can blossom into something really spectacular for businesses that are struggling," Anderson said.
Anderson said that he is eager to let people know that although he no longer has a storefront, he is still open for business.
"I gotta get my name back out there and let people know that I'm back in town," Anderson said. "Potter's back. Instead of being in a single location, we're mobile with the same good quality work."
To learn more about Potter's Computer Systems, visit PottersComputers.com. Anderson can be reached by calling (803) 667-5348.