Richard Sims is a "believer in accidentally doing something right." This is exactly what he did to become a successful hair and make-up artist and owner of his own salon, Style Me Riche' in Columbia.
As a child, Sims never thought he would be in the hair and make-up styling industry. He dreamed of being a professional dancer, dancing for Janet Jackson, and even being an architect. It wasn't until he was 18 years old that he stumbled upon a new passion beyond dance. Sims received an opportunity to choreograph a duo of hair stylists' performance in a hair battle competition. Originally, Sims was not considering a career as a hair and make-up artist, but after choreographing the winning performance at the hair battle, he was motivated to pursue a new path.
For many years Sims worked at salons and learned from his co-workers and bosses. He took notes of what salons did that he liked and didn't like. At first, Sims didn't want to run his own salon, but soon realized that he is "naturally his own boss."
Sims opened his salon Style Me Riche' -- which he said means "make me feel expensive." He prides himself in running a salon that offers numerous services for hair and make-up styling, and events like weddings. One of his goals is to give not only his clients, but his employees a diverse and unique experience.
Throughout his career, Sims has worked with several celebrities like Tahiry, Angela Yee, Sergio Hudson, Auntie Karen and many more. He also worked the New York and Charleston Fashion Weeks. Beyond working with celebrities and running his salon, Sims also prides himself in being a creative director.
"I love to step away from behind the chair and work behind the scenes," Sims said.
He enjoys working as a creative director for photoshoots and commercials. Sims is a creative at heart and loves working with designers who can create a custom look out of Sims' visions. As a creative director, he can showcase his different talents all at once for a project.
After graduating from the Kenneth Shuler School of Cosmetology, Sims was the school's spokesperson from 2013-2014, being the face of the cosmetology school. Through this opportunity, he made his own commercials and was in charge of everything like picking out the models and wardrobe.
Sims' talents are widespread but he still said his home is his salon. He cares about the people he works with and customers he serves.
"My team members and my clients, we are all a family," Sims said.
He says that the work environment he creates is very important to him.
"I want my salon to create positive people and positive energy," Sims said.
As a stylist, Sims becomes a part of his customers' lives. They share their stories and life-changing events with him.
"If people can trust you with their hair, then they typically can trust you with other major parts of their lives," Sims said.
He styles people for weddings, funerals, special parties, and more. He plays a role in his clients' lives and offers his support through his work.
Sims "accidentally did something right" to achieve his successful career. He continues to use his talents to help his clients and demonstrate his creativity. In the future, Sims said he wants to have a legacy built for his salon, but ultimately hopes to inspire other people.
"I hope to have motivated and influenced people to strive and reach their goals," Sims said.
To learn more about Richard Sims or schedule an appointment at his salon, please visit: Style Me Riche at 652 Bush River Road, Suite H in Columbia, SC. The salon can be reached at (803) 728-0623 or via e-mail at book@stylemeriche.com.
As a young entrepreneur, Richard Sims has been featured at the annual Auntie Karen Legends of…Concert. He currently serves as the Hair & Makeup Leader for The Auntie Karen Glam Squad along with Sergio Hudson, Tre Tailor & Debora Lloyd. He joined the team in 2013. Starting in 2007, the Glam Squad creates and coordinates Karen Alexander's look for the annual Auntie Karen Legends of…Concert Series.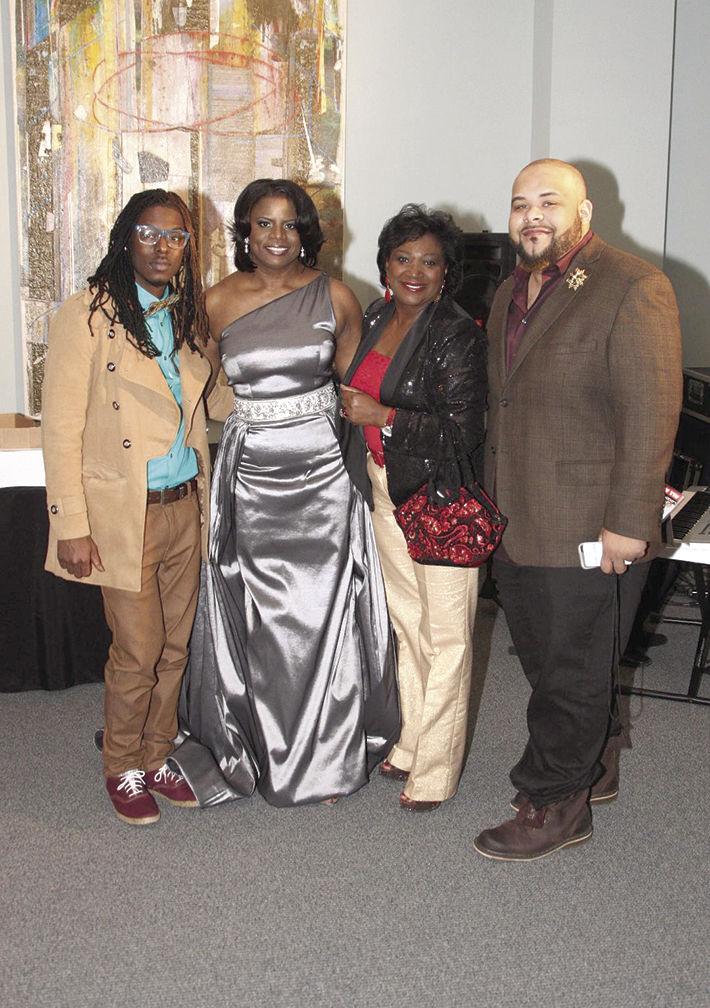 Since 2003, The Auntie Karen Foundation has presented the annual Young Entrepreneurs Conference on the campus of Benedict College. This innovated conference brings youth from across the region together to foster economic empowerment. The Auntie Karen Foundation is currently accepting Young Entrepreneurs to showcase at the 17th Annual Young Entrepreneurs Conference to be held on October 19, 2019. To nominate a youth for consideration contact Karen Alexander via email Karen.Alexander@auntiekaren.org or call 803-748-7124.
The Auntie Karen Foundation is a global, 501(c) 3 charitable corporation based in Columbia, SC. To learn more about the Auntie Karen Foundation, visit www.auntiekaren.org. #thinkbigknowbigger ###