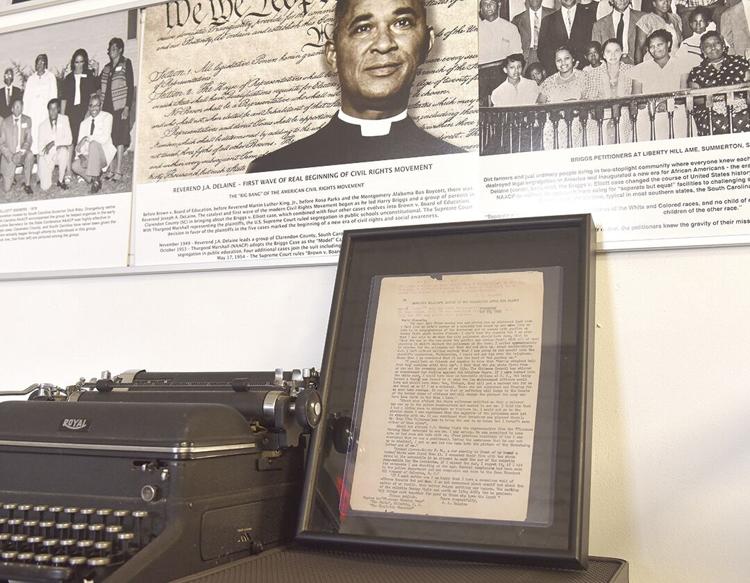 The search by the Cecil Williams South Carolina Civil Rights Museum has archived another rare historical gem. J.A. DeLaine, Jr., now living in Charlotte, NC, recently donated an original letter written by his father, Rev. J.A. DeLaine, — civil rights pioneer, from Clarendon County, South Carolina.
On the fading letter, Reverend J.A. DeLaine's typewritten words about an incident 65 years ago ring out across the timespan: "Around eleven-thirty P.M., a car passing in front of my home, a number of shots were fired from it. I answered their fire with two shots aimed at the automobile in an attempt to mark the car of the culprits responsible for the incidents."
"The October 13, 1955 letter, 50 lines on cotton paper—rapidly turning tan, describes Delaine's decision to leave South Carolina in haste and under duress," stated Cecil Williams. "Afterwards, a warrant was issued for his arrest for returning gunfire when his parsonage came under hostile gunfire," stated Williams. "He fled to New York City and because of his efforts in the Briggs v. Elliott case, never allowed to return to South Carolina."
In 2004, Delaine and three other plaintiffs in the Briggs v. Elliott case were posthumously awarded Congressional gold medals for their courage and persistence despite repeated acts of domestic violence against them.
The Cecil Williams South Carolina Civil Rights Museum has launched an immersive effort acquiring items pertinent to the era of the civil rights movement. The project is now underway to locate and preserve documents that relate to the African American experience in South Carolina during 1950 –1970. "We are not only seeking documents of public figures, but also ordinary individuals whose records reveal the experience of "grassroots people in South Carolina," stated Cecil Williams; founder of the first and only civil rights museum in the Palmetto state.
Williams' mission to create a South Carolina civil rights museum culminates a twenty-year quest towards that goal. Presently, including photographs of major events, the museum comprises about 20,000 items; the largest source of South Carolina civil rights history available anywhere. Williams' film archives, presently being scanned at Claflin University where he is the Director of Historic Preservation, is estimated to be about 250,000 images. Before COVID-19, student interns were involved in the project sponsored by Gaylord Donnelley Foundation.
"Our history is rapidly disappearing because of age, generational change and neglect," stated Williams. "To address the loss we have launched a nationwide search reaching out to everyone to assist in this noble endeavor. Of course, our museum needs financial donations but we are also now seeking physical artifacts, documents, manuscripts, photographs, film negatives, and printed materials."
Newspaper clipping are not included in the search. The idea behind the museum's mission is to collect, preserve, and document the history, heritage, and culture of African Americans in South Carolina. "If you are unable to donate a historical item as an outright gift, we could arrange a mutually agreeable loan for a specified period of time," said Williams. "One advantage of donating to our museum is we will actually display items in collections rather than just place it in acid free archival storage that may never be viewed by the public.
To discuss potential history-related donations, individuals are encouraged to write or call Cecil Williams at 803-531-1662.
"South Carolina history is vitally important to Black America's struggle for equality," stated Williams. Archived materials are the essential sources for historical research and provide scholars, researchers and the public valuable information, details, and perspectives on the history of African American communities."
In particular, the museum seeks historically significant items such as: diaries, photographs, high school and college yearbooks, letters, NAACP and church records, signs and symbols of segregation and racism, jail house paraphernalia, and personal letters and correspondences. "One advantage to donating items to a new museum like ours is that we will actually display it in collections rather than just place it in an acid free archival storage and maybe never available to be viewed by the general public," stated Williams.
Since opening in March 2019, the museum has acquired other rare and valuable historical items. In September 2019, the Briggs Family Bible, one of the most coveted artifacts of the civil rights movement era, was placed in the museum by members of the Briggs family, of Summerton (Clarendon County), South Carolina. Nathaniel Briggs, and Catherine Eliza Briggs Smith, son and daughter of Harry Briggs, Sr., original petitioner in the Briggs v. Elliott school desegregation case, were on hand to make the presentation.
In part, the search effort by the Cecil Williams South Carolina Civil Rights Museum is being made possible thru generous donations from Dominion Energy, Volvo, S.C. Humanities and Red Olive Creative Consulting. "Through their gifts, to preserve items for future use and public sharing, we have purchased air purifiers, archival equipment and our facilities will be maintained in a climate-controlled atmosphere."
In addition to the Briggs Bible, and the DeLaine letter described above, a selected list of the museum archives include:
• THURGOOD MARSHALL IMAGE AND AND SAMSONITE SUITCASE ARRIVING IN CHARLESTON FOR BRIGGS CASE
• ORIGINAL MANTEL CLOCK – CENTERPIECE IN THE SUMMERTON, SC HOME OF HARRY BRIGGS SR.
• ORIGINAL PHOTOGRAPHS OF JFK 1960 NEWS CONFERENCE ANNOUNCING CANDIDACY
• ORIGINAL SHELLS, PINS, AND BOWLING BALL USED FEBRUARY 8, 1968 BY SC HIGHWAY PATROLMEN IN KILLING 3 STUDENTS AND INJURING 28 OTHERS DURING ORANGEBURG MASSACRE.
• SAM COOKE PHOTOS APPEARING AT SEGREGATED COLUMBIA SOUTH CAROLINA TOWNSHIP AUDITORIUM WHERE IN 1962 HE WAS INSPIRED TO CREATE, A CHANGE IS GONNA COME.
• ORIGINAL TYPEWRITTEN NEWS RELEASE FROM JOHN H. MCCRAY WHO PLAYED AN INFLUENTIAL ROLE IN THE FIGHT FOR JUSTICE FOR AFRICAN AMERICANS IN SOUTH CAROLINA AND ACROSS THE NATION. MCCRAY WAS FOUNDER, EDITOR AND PUBLISHER OF THE LIGHTHOUSE AND INFORMER, ONE OF THE TOP BLACK NEWSPAPER OF ITS DAY.
• ORIGINAL 1943 ROYAL MANUAL TYPEWRITER OWNED BY REV. J.A. DELAINE.
• ORIGINAL 9/6/33 STATE OF SOUTH CAROLINA DEPARTMENT OF EDUCATION CERTIFICATION FOR TEACHERS CERTIFICATE ISSUED TO MATTIE B. DELAINE, WIFE OF REV. J.A. DELAINE.
• ORIGINAL 1975 PANTHER HAND-DRAWN FRAMED IMNAGE BY BILLY GRAHAM, MARVEL COMIC BOOK ARTIST.
• JET MAGAZINE "PRESS PASS" USED BY CECIL WILLIAMS WHILE PHOTOGRAPHING HARVEY GANTT ENTERING CLEMSON
• CAMERA & ORIGINAL FILM USED TO PHOTOGRAPH THURGOOD MARSHALL AND ORIGINAL 1946 KODAK "BABY"BROWNIE CAMERA; OWNED BY MUSEUM FOUNDER CECIL WILLIAMS THAT LAUNCHED HIS CAREER IN PHOTOGRAPHY.
• ORIGINAL CIRCA 1943 FAMILY PHOTOGRAPHS OF REV. J.A. DELAINE FAMILY IN FRONT OF HOME IN CLARENDON COUNTY, SOUTH CAROLINA.
• ORIGINAL JET MAGAZINE FRONT COVER OF CORETTA SCOTT KING PARTICIPATING IN 19969 CHARLESTON HOSPITAL WORKERS' STRIKE.
• ORIGINAL 1940 SOUTH CAROLINA STATE COLLEGE BULLDOG YEARBOOK (Oldest Known)