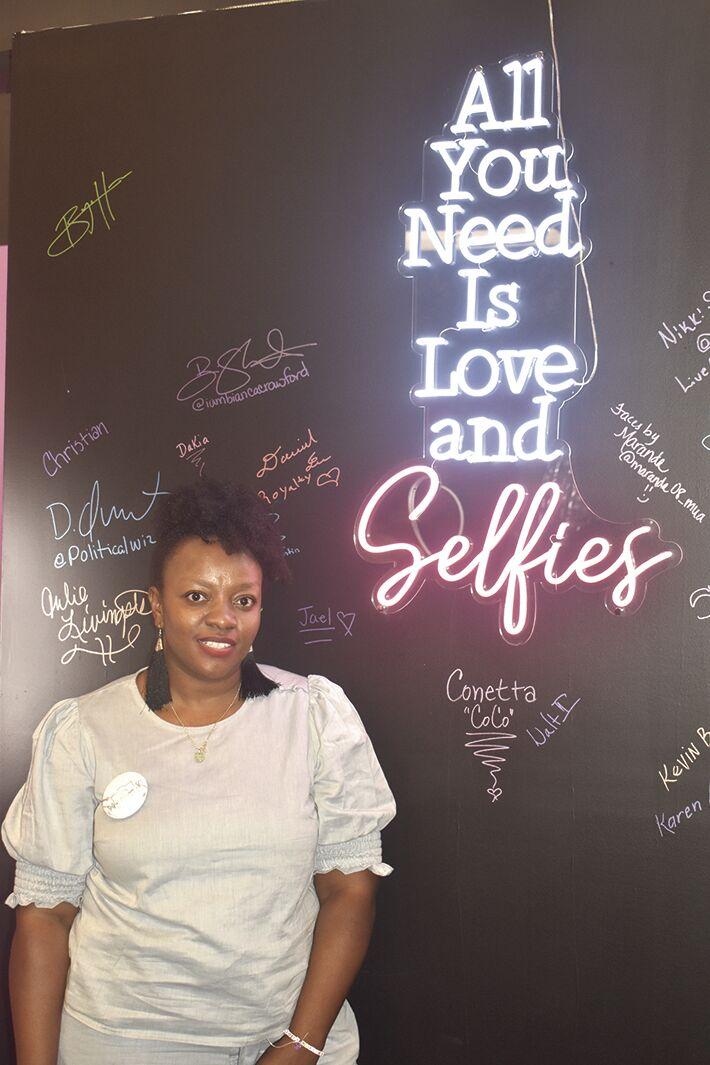 Columbia residents can now capture the perfect selfie at Selfie Mania, Columbia's first selfie museum. The 2,500 square foot venue held its grand opening on Saturday, June 5 at its Columbia Place Mall location (second floor directly across from Macy's).
Selfie Mania is the brainchild of Conetta Griffin, a Hemingway, South Carolina native.
"I went to both USC and Clemson, and majored in accounting and health care IT," Griffin says. "After college, I moved to Columbia because that is where all of my sisters were. I have been here ever since. I have two small kids, a husband, three sisters and an abundance of nieces and nephews."
Griffin came up with the concept for Selfie Mania after seeing similar businesses opening in other areas.
"We saw online some other places that had something very similar," Griffin recalled. "We thought there should be something like this in Columbia. We took what they had and added our own twist and came up with this concept."
Griffin secured space for her new business in Columbia Place Mall last month.
"We actually got the lease on this place a month ago and we have been in here working day and night to get everything done," she said. "This has been a family effort – we have all worked together to make this what it is."
The museum features 15 themed, interactive selfie pods, phone stands and lighting equipment for guests to enjoy. The space also serves as a photography studio, private event space and recording studio for social media and brand influencers.
"We have fifteen stations, and everything has its own different theme and flair. You won't get the same concept in another room. We are going to change the booths monthly, so hopefully you will come back more than once," Griffin says.
Clients can also book the entire space for parties and events.
"If you want to celebrate a birthday, Selfie Mania has birthday party specials. Just go on our website at www.selfiemaniasc.com," said Griffin.
Photographers are also invited to book photo sessions at the facility. But if you want a photo session and can't afford a professional photographer, Selfie Mania has you covered.
"If you are a senior and you don't have the money to book a professional photo session, you can dress up and come during normal business hours for $20, which is our normal price during the weekend," Griffin said. "You can come and take as many pictures as you want. Bring your own device, fully-charged, and we will handle everything else."
Griffin says that she invites everyone to visit Selfie Mania.
"This is my first shot at entrepreneurship, so I really hope that people come here and enjoy it," she said. "We are open Friday and Saturday from 11 a.m. to 7 p.m., and on Sunday from 12 noon to 6 p.m. During the week, we are open from Tuesday through Thursday by appointment only. That's when we will do most of our private sessions."
Long term, Griffin says that she hopes to expand to other cities.
"After we have been here a couple of years," Griffin says, "I hope to expand outside of Columbia Place Mall and move into other areas."
Griffin says that she really wants her customers to feel good when they visit Selfie Mania.
"We are a family-oriented business. We are all about love and we want to spread love. We ask everyone who comes to come with a happy attitude and good energy, and I feel like you will enjoy yourself," she said.
Selfie Mania is located at 7201 Two Notch Road, Suite AU540 inside Columbia Place Mall.
For additional information, visit www.selfiemaniasc.com or visit the company's social media pages on Facebook, Instagram or Twitter. You can email Conetta Griffin at conetta@selfiemaniasc.com.