BUSINESS OF THE WEEK
There are many power couples with both members involved in stressful, high-profile careers. One couple is Theron and Rania Jamison. Theron, better known as Ron, is an educator. Rania is a public relations expert and political consultant. In addition, they are raising a six-year-old son, Blaize.
Despite having stressful careers, the couple decided that they needed to do something relaxing. But the stress-relieving activity they decided to do was to launch a family business together.
"By day, I am a middle school English teacher," said Ron. "I was looking for an outlet to even out the rigors of teaching and responsibility -- something that was fun, but also refreshing. I wanted it to be something that was pretty cool, exciting, fun, and natural."
The seed for a business concept was planted at their son's second birthday party. The couple hired an ice cream truck to provide treats for their guests. It was the highlight of the party.
"Not only was it the highlight of the party for our son, but it was the highlight of the party for the other kids and adults," Rania recalled. "When I planned a party a couple of years later, I was getting messages from parents a few months out asking if we were going to have the frozen treats again, because they enjoyed it just as much as the kids. It was a big inspiration for us."
In 2018, the couple began developing a business plan and testing recipes. They also began doing private tastings at events to gauge customers' reaction.
"Ron created all of these custom gourmet popsicle flavors and put them together," Rania said. "That's a skill he's had for years, being able to go in the kitchen and mix them up."
The couple's big break came when they stumbled across an opportunity to provide frozen treats at a local marina. One of their favorite things to do is to take their son boating on Lake Murray. The boating trips usually ended with the purchase of a snow cone from a company at the marina.
"We found out from the folks there that they were no longer going to have that company on site," Rania said. "They said that they had so many people asking about frozen treats, and they had no idea what they were going to do. We immediately said, 'We've got a frozen treat great business and we'd be more than happy to help'."
The couple signed a contract with Lake Murray Marina to provide frozen treats on June 19, 2019.
"That was right before Memorial Day, and we went full throttle," Rania recalled.
They called the company "The Lick." The company offers a variety of frozen treats. Lick Pops are the company's gourmet popsicles made with fresh fruit. Flavors include strawberry lemonade, pineapple basil, mango smash and pineapple strawberry.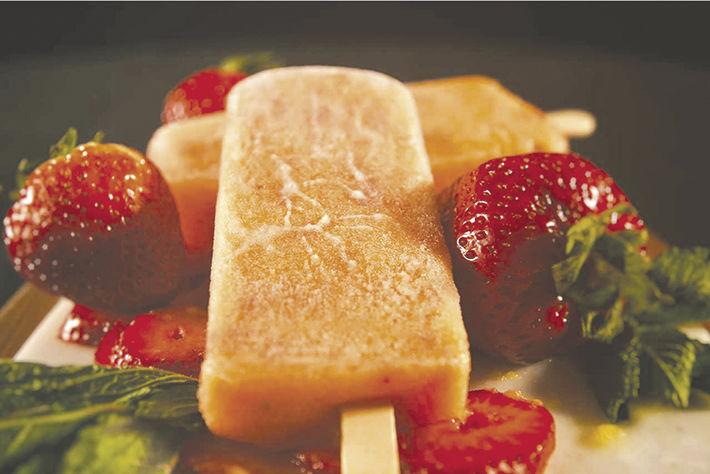 The company also sells "Blaizing Water Ice" and "Blaizing Shaved Ice" treats, named after their son. The water ice treats flavors include Pina Colada, Strawberry and The Bomb, which reminds people of the Bomb popsicles they used to buy as kids. Shaved ice treats come in 14 different flavors, including Fuzzy Navel, Mai Tai, Passion Fruit, Tiger's Blood and Blue Bubble Gum.
For adults, The Lick sells Poptails, which are popsicles infused with alcohol. Popular flavors include Bourbon Smash, Mimosa, Hawaiian Sophie and Ol' Dirty Pirate.
The Lick operated from Thursdays through Sundays at the Lake Murray Marina between Memorial Day and Labor Day. Now that summer is over, the company can be found every Saturday at the Soda City Market on Main Street.
"A couple of weeks before Labor Day, we started becoming a lot more mobile," Rania said. "We got our pop cart, and every Saturday we're at the Soda City Market."
Thousands of people visit the Soda City Market every weekend. The couple noticed that many people brought their pets, so they developed a line of treats just for dogs.
"Pupsicles are for animals," Ron said. "They are made with fresh organic products that are really human grade products. That means if you wanted to have one you could, but they were developed especially for dogs. They are shaped like dog bones or paws. People buy them to cool their pets off."
"We can't keep Pupsicles in stock," Rania added. "We sell out every week."
In addition, The Lick provides frozen treats at private and corporate events.
"We've been doing corporate and school events," Rania said. "We actually do fundraisers for schools and churches where they don't charge us a setup fee, and we provide a percentage of our sales back to the school or the church."
The Lick can provide treats for events all over the Southeast.
"We have the capability to pick up and travel," Rania said. "We are excited about the fact that we can cater to the entire family. We can cater events that are kid friendly, as well as adults and for those who have a more sophisticated palate. We try to have a little something for everybody – not just the kids but also the kids at heart."
The Lick can provide treats for all types of events.
"We did an event with Amazon a week ago that was an employee appreciation night. They hired us to give non-stop treats for folks," Rania said.
The company also does smaller events.
"It doesn't necessarily have to be a festival or a large event," Rania continued. "It could just be people want to do a special order for a tailgate or party. For instance, if you have a book club and want a small order, we have the capability of doing that as well."
When asked why the company has been successful, Rania says that it is because the whole family gets to work together and use their skills.
"We really are a family business," Rania said. "I use my PR and marketing skills. Ron puts together the recipes and makes sure everything tastes wonderful. Our six-year-old, Blaize, is our Chief Inspiration Officer. He calls himself our official taste tester, but he also will help develop names for products. He inspired the name Bomb. And we were just going to call one flavor Watermelon, but he said it had to be Watermelon Delight. So he's very involved in the process. We're teaching him and giving him the opportunity to launch into entrepreneurship."
Ron says that they are also successful because their provide products that bring joy into people's lives.
"You rarely see the bad side of someone when they are indulging in a frozen treat," Ron said.
"You don't see people frown with a popsicle in their hand, unless it hits the ground," added Rania. "A lot of times I'm dealing with challenging issues, trying to make our community better. But frozen treats is one of those things where the hardest question we usually have to ask is, what flavor and what size."
You can purchase The Lick's line of frozen treats every Saturday at the Soda City Market on Main Street. If you would like the company to cater or be a vendor at your event – or if you want to place an order – the couple can be reached by calling (803) 728-1256. To learn more about the company, visit www.TheLickPops.com or look them up on social media.