Kenneth Canty, PE, has been involved in Heavy Civil Construction for 25 years. For the past 12 years, he's been a business owner who completed the 8(a) Program with well over 400 projects under his original company, Freeland Construction.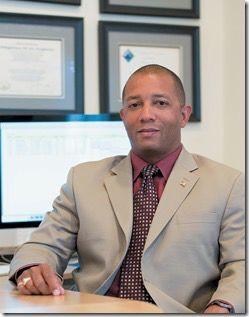 One of those projects includes the high-profile Wando River Bridge out of Mt. Pleasant, SC. Three years ago, what seemed to be a highlight for the Disadvantaged Business Enterprise (DBE)/Minority Business Enterprise (MBE) certified firm, working on a project of this magnitude, led to a path that Mr. Canty recounts to include unfortunate, racial discriminatory experiences.
"That [Wando River Bridge] job that [Carolina Panorama] profiled me on in August 2017, I got a lot of hateration from that prime contractor over that.
When Kenneth Canty worked on the 2005 Cooper River Bridge demolition project in Charleston, …
Because he had struggled and struggled, and I came up with a way to do it in the safest, most economical manner that happened to look very striking, and I got a lot of pushback from them. We actually made that swing bridge into a reef. Not only were we the first African Americans to do a demo like that, but we were recognized nationally from an engineering point of view," said Mr. Canty.
At the time, Freeland Construction was not only thriving with projects, but the company maintained a diverse workforce with offices/personnel located in Charleston, SC (HQ); Columbia, SC; Orlando, FL; Washington, DC; Springfield, MA; and an international office in Sofia, Bulgaria. Though the company was receiving national recognition and personal success, those factors did not cease the contract disputes regarding differing site conditions and property damage.
"They literally stuck me for several hundreds of thousands of dollars, and I went out of business with Freeland. How they get minority contractors is they change something in the field, and your contract basically says you have to go deal with it. Then they don't pay you for it and stall you out. They'll give you a job where they know about it, but there's no way you know about it because it's underground or underwater. As a DBE, they stick you with it and you go under; then they're like, 'See, that's why we don't hire black people to do this work.' You go out of business and you're gone. That's why you don't have a lot of people who do this type of work; it's not because we're not smart enough or don't work hard enough. So I started another company, Atlantic Meridian Contracting (AMC Corp), but had the same experience," said Mr. Canty.
With Freeland out of business and AMC starting up, there was a glimpse of hope despite previous obstacles. However, on March 17, 2020, AMC reported to work at their project site in Pensacola, FL, and encountered yet another hurdle, discovering their equipment had been vandalized and damaged.
Equipment damaged included the LaBounty UP-70 muncher, which was mounted on their VOLVO EC-48. It was allegedly further investigated to find that the machine had been taken to a supply of 30" concrete pile cutoffs that had been turned over to AMC by Skanska, and used in an attempt to pulverize those structures.
"Now this is three times I've experienced these malicious acts - first with the US Army Corps of Engineers; huge amounts of racism and discrimination in Columbia, SC; PCL Civil Constructors, Inc. with the South Carolina Department of Transportation (SCDOT); and now Skanska USA with the Florida Department of Transportation (FDOT)," Mr. Canty said.
What distinguished this recent incident from the others was that this time, all was caught on videotape.
"With Skanska, I had cameras set up, and I documented it because I had already experienced it twice before. I'm used to the racism and discrimination, so I just let it roll off my back. But this time I couldn't. This was an act of sabotage and intimidation because I had them dead to rights on money that was owed, which was millions of dollars. So what they decided to do was violate Title VI in hopes of running us out of business. In my view, that was the burning of the cross on my lawn. This destroyed me; it's not like business as usual."
Mr. Canty recalled the crews leaving the site around midnight that evening, in which the perpetrator may have been watching before executing this act. "Part of the sabotage on the equipment, we figured out it was somebody on the site," Canty says. "They were already there because the vehicle was already there in the video."
Physical evidence was also collected that could identify the perpetrator but was turned over to law enforcement for proper action.
In addition to enduring the costly effects of damaged equipment, Mr. Canty also faced contract termination. The prime contractor allegedly did not disclose the differing site conditions that existed underwater on the SR 30 (US 98) Pensacola Bay Bridge Replacement project. "[Skanska] terminated us when we had a presentation to the FDOT. COVID delayed the face-to-face meeting, but when we finally had a conversation with the FDOT on why things out there were so different, the DOT says, 'Of course they are - we gave these drawings to the prime contractor, Skanska.' Skanska immediately defaulted us that day, and within a few days, terminated our contract," recalls Mr. Canty.
These racially-motivated acts left no choice but for Mr. Canty to take legal action. Currently, the Federal Highway Association (FHWA) is in the process of starting a Title VI investigation, which bans discrimination based on race in federally funded contracts. Due to lost job costs and site/equipment damages, Mr. Canty anticipates an estimated $7-21 million from those companies who have allegedly contributed to his challenges in this believed systemically racist industry.
"People are listening to this stuff now for the first time in this country," Canty says. "White folks are listening, because they can't deny what happened to George Floyd, and the same thing happens to black businesses as well. The reconciliation this country's going to have to do is not just in the police department. We have to eradicate people being treated differently because of race."
Mr. Canty's final thoughts shed light on the reality of the industry, as he provided insight for other DBEs who may be experiencing or have experienced similar situations.
"First thing, watch your back. There's so much money on the line in this industry, they don't mind getting someone hurt or killed. Secondly, no matter what the personal price is to you, it's beholden of you to say something immediately. Team with other folks moving forward and watch each other's backs. Don't think that you deserve anything less because of your skin color because you don't. This is America. Everybody deserves a fair chance, and we have to hold this country accountable," Canty said.