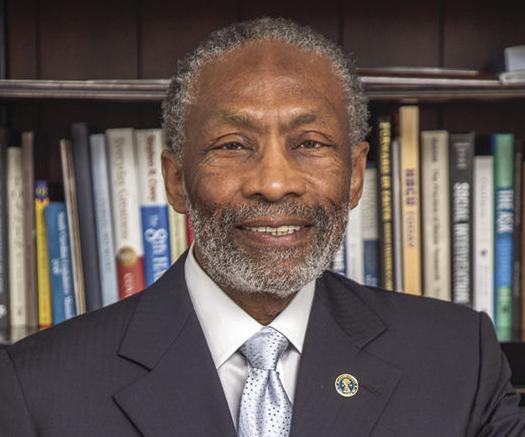 As part of our series on how the Coronavirus outbreak has affected HBCUs, we sat down for an with interview Dr. Ernest McNealey, President of Allen University.
Tell us about your decision to shut down Allen University's campus.
We pay very close attention to all of the credible sources of information, the Centers for Disease Control (CDC) and the Department of Health & Environmental Control (DHEC). And in the higher education space, there are organizations and networks that are regularly convening presidents to talk about issues of the day that might impact us all. The South Carolina Independent Colleges and Universities Association, for instance, has a conference call every single week. So the sharing of information in higher education is pretty widespread. And so once it was very clear that we had a real pandemic, it was impractical to have students going back and forth.
We decided fairly promptly to move to online instruction following spring break. And that's essentially what we did.
Was it difficult?
It was probably not as difficult for Allen as it might have been elsewhere, for a multitude of reasons. First and foremost, our students have free access to electronic textbooks -- not just textbooks, but all sorts of learning materials that are aligned with the courses that they're taking. So they were very much accustomed to looking for information in an electronic format.
And at least for three years, we have been working multiple times a year with faculty to do online instruction and had adopted one of the early validation software. As you as you probably know, to do online instruction, an institution must be able to determine that the person registered and the person who submitted the graded work are one in the same. But we adopted a system early on and had a considerable amount of practice. The aim was the have all degree programs, not just courses, that are fully online.
In terms of our faculty readiness and student familiarity, it was not a difficult transition. What we did had to do was to fairly quickly was recognize that not all of our students had the same capacity to access the information once they were no longer on campus. So we promptly purchased tablets and keyboards and sent them to our students.
I'm certain that it was challenging for students at home, given the lack of structure that they would normally have living on campus, but overall our students performed well. And at the end of the day, faculty and students alike were okay with the transition.
Did the University launch a fundraiser to raise funds for the tablets or did you do it out of operational budgets?
We did a little bit of both. The timeline was so short. By the beginning of the second week, we sent the tablets and the keyboards out. I and other individuals made contributions, and we used operating funds and contributions by the Seventh District (of the African Methodist Episcopal Church). It was something that we decided that we needed to do, so we made the decision to do it.
How do you think the pandemic is going to affect the recruitment of students and their enrollment this fall?
That is the great unknown. Obviously, we are planning to resume our schedule with regular classes. Many of our classes are taught in a hybrid format anyway when the kids are here.
When the pandemic struck in the middle of March, the normal recruiting went right out the window. All the high schools were closed, and large gatherings in formal recruitment fairs went by the way. So the normal ways that students are recruited simply disappeared.
Now certainly prior to that, we had a large cache of applications, but there's a great deal of follow up that takes place. We are still communicating via text and all the kinds of things that are normally done with young people. But unfortunately, we can't predict exactly where enrollment is going to be until they show up.
We are planning for all contingencies. We've had teams working to address every possibility imaginable. The challenge, of course, is we're talking about something that comes in August. I
have no idea what the world will be like by then, but we have to plan nonetheless.
The greatest challenge is that given that we cannot predict with any precision how many students will enroll, the question of funding can't be known. All the measures that we're talking about involve spending even more. So we're looking at a situation where revenue is in question.
How will the pandemic affect Fall sports such as football?
There will be sports in the fall. Both of the national associations, the NCAA and NAIA have indicated that they anticipate sports will go forward. Certainly, there are some modifications in terms of the number of contests that might be played. Everyone is scrambling. By definition, you can't do social distancing for sports, so we have been having conversations back and forth about what is possible.
In football, we do not know precisely how many games will be played. Among the first things that both associations did was to reduce the number of games schools have to play. It's far too early to know exactly how this will roll out.
How do you think the pandemic will affect HBCUs in general and Allen University in particular?
It's been existential threat to the higher education community writ large. To be candid, except for the wealthiest schools, the pandemic will have an adverse impact everywhere. Some of the largest universities are reporting the loss of 10s of millions of dollars already. It is because they have internal auxiliary enterprises where they sell products, run restaurants and provide health care, so their losses have been considerable. In our case, we did not lose because we had zero enterprises raking in cash.
The real challenge for HBCUs in particular is what lies ahead. I describe it as a tsunami that's coming. And within that tsunami, there is a leviathan.
It is not possible to predict with any precision. There are two factors at work: One is to operate normally with the virus still with us, where we have to spend a great deal more and costs will go up.
On the other hand, because we don't know what enrollment will be -- it will certainly go down in some way -- we will be operating at a higher cost with lower income. The challenge will be to manage that situation until there's either therapy or vaccine.
I suspect that those of us who will be still operating soundly a year from now will be able to rebound. Forty-seven million people filed for unemployment since March. That is absolutely staggering. So, where will John and Mary be able to find a job? So many of the jobs that were once available in our society will not come back. So the kinds of jobs that require familiarity with language, technology and the ability to adapt are going to be the kinds of jobs that are still available. Those are the kinds of jobs that colleges and universities prepare young people to have.
How have you been keeping students informed while they are off campus?
We are constantly looking for good sources of information in order to make informed decisions. We have been in that discussion with students for quite a while. I've written a couple of times to the student body, to let them know every single detail. We are starting the semester as scheduled. We're ending the semester at Thanksgiving. Masks will be required in class. Simply laying for them some of the things will be afoot.
The schedule has been done so that the maximum amount of social distancing is baked into it, based on the level of enrollment. That work has already been done. We'll only have half the seating in food services that we normally have, and there will be shifts like you have on a cruise ship.
We shared this with the student leaders. We held a meeting with elected student government officers and captains of athletic teams, to just let them know what we're going. To my absolute delight, the students asked questions and seem to be eager to come back.
What are some of the things Allen University supporters can do to help?
They can simply share the good news. We've done extensive planning and are probably ahead of the game as we were with the (remote learning) technology. We simply need people to tell the story.
Are there any other changes Allen is making for the future?
We're bringing Teacher Education back. We had intended to have the drum beat quite loud about that before the pandemic struck. We are expecting tremendous growth as we gear up to do it. It will be a different kind of teacher education program in that the issue of passing tests will be baked into the instruction. In other words, the way the kids are taught, and the way they're tested will be very much parallel to the kinds of external experiences they'll have to grapple with.
It's not an area where you have an adequate number of students who opt to do it. You have even fewer who graduate. Teacher shortages are not only a problem South Carolina, but all across the nation. For a very long time, HBCUs provided the majority of African American teachers, so we are pleased to return to that. Allen had a distinguished history in that area.
We needed the approval of SACS (Southern Association of Colleges and Schools), and then the State Department of Education in South Carolina. We've gotten that, so we just need now to start up. We'll do that in the fall, and I anticipate that it will constantly grow once it's up and going.
What are some of the things you anticipate coming in Allen's future?
We don't anticipate any limits in the things that we that we set out to do. We are thoughtful and careful about not overextending ourselves. But for those things that we set out to do, we fully anticipate that we're going to succeed at it.
Allen has a really interesting story -- not only historically, but recently as well. It's certainly a great place for students and for people working as well.