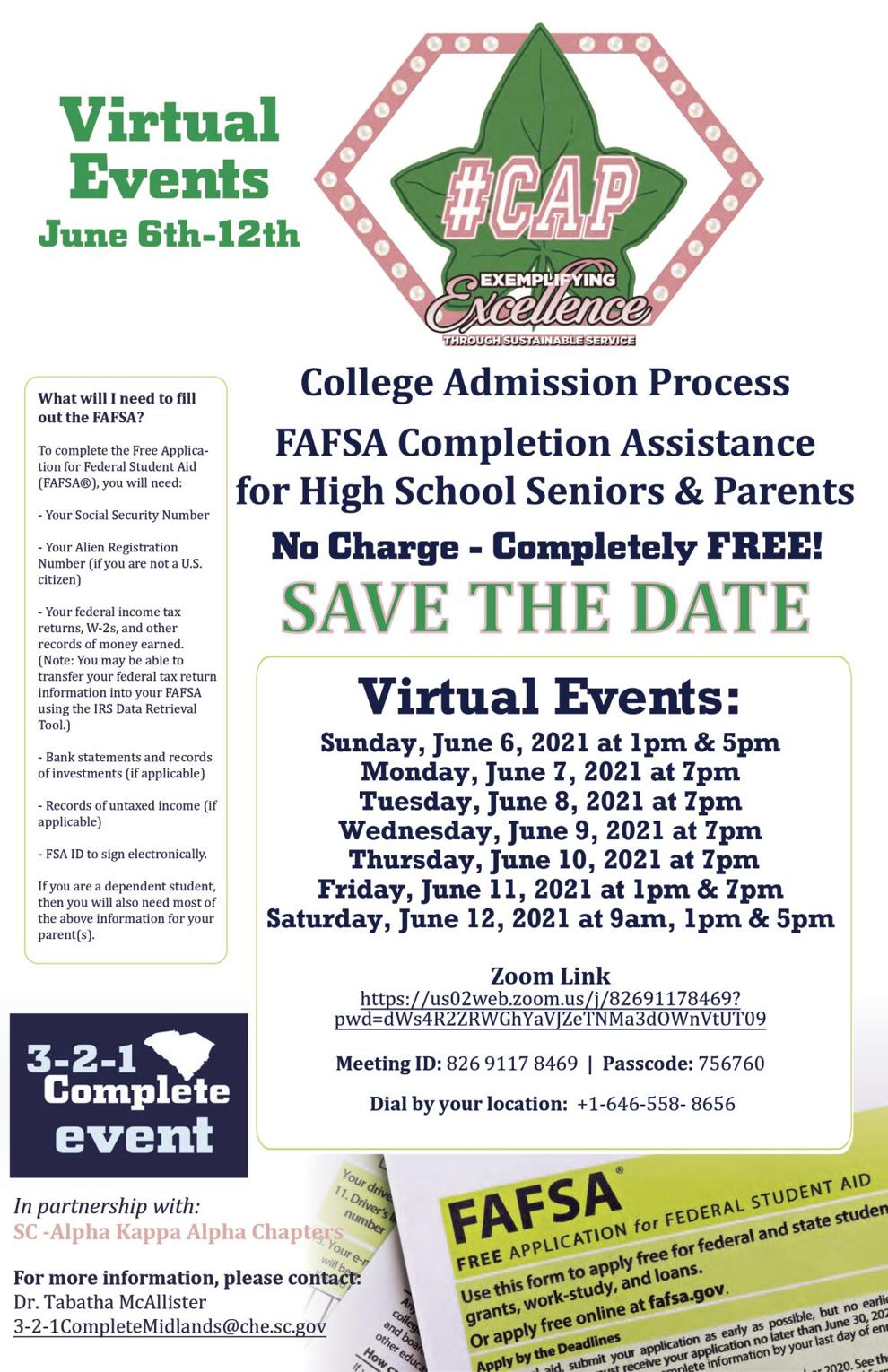 The FAFSA Completion Project works in sharing efforts aligned with the Alpha Kappa Alpha (AKA) Sorority, Incorporated® Signature Program #CAP (College Admissions Process). This project will assist students in their efforts to enter college by providing a hands-on approach to completing the Free Application for Federal Student Aid (FAFSA), which is a critical step in the college entry process. 
Alpha Kappa Alpha Sorority, Incorporated® has members who serve in many of South Carolina's neediest areas. Since the Class of 2021 FAFSA Completion rate for South Carolina is down nearly 30%, there will be a targeted interest on SC counties with a 21-29% below completion as compared to last year. (Currently, only 45.9% of Seniors have completed their FAFSAs in South Carolina. There has been a sharp drop in towns/rural areas and locations with high minority populations.) The goal of the initiative is to increase the state FAFSA Completion rate and have an additional 600 students complete the FAFSA before September 2021.
The FAFSA workshops will be held online via Zoom.  The virtual events will take place on:
• Sunday, 1:00 and 5:00 PM
• Monday, 7:00 PM
• Tuesday, 7:00 PM
• Wednesday, 7:00 PM
• Thursday, 7:00 PM
• Friday, 1:00 and 7:00 PM
• Saturday, 9:00 AM, 1:00 and 5:00 PM
Zoom Link: https://us02web.zoom.us/j/82691178469pwd=dWs4R2ZRWGhYaVJZeTNMa3dOWnVtUT09
Meeting ID: 826 9117 8469
Passcode: 756760
Dial by your location: +1-646-558- 8656 
For more information, contact Dr. Tabatha V. McAllister, FAFSA Guide, 3-2-1CompleteMidlands@che.sc.gov.