"Shelter is an important piece of theatrical art that highlights a certain segment of the population, mainly the middle class who have been displaced because of societal, emotional, or physical circumstances. SHELTER provides a distraction to some and a safe haven for others; lives are transformed with a fresh perspective and renewed spirit," said Charles David Brooks III, who directed Benedict's performance of Shelter.
Brooks wrote and directed the play, which was performed by the Benedict College Theatre Ensemble on November 20-21 at the Little Theater.
Upon the Hearing of Auditions, students came from around the community and campus majoring in Biology, Psychology, Business, and other Majors, including Art, Music (Vocal and Instrumental), and those who came to Minor in Theatre. Forty-two (42) out of 100 students were selected for acting, stage managing, running crew, set designers and builders, light and sound designers, and media specialist, vocalists and musicians, voice and musical directors and arrangers.
The cast consisted of Women: Caroline Garcia (Lizzie), Di'Nesha English (Madea), Aniya Hickman (Nora), Janeane Taylor (Irene), Sorenya Miller (Amie), Nautica Howard (Molly), Tierrra Gardner (Jewel), and Men: Elijah Daniels (Jake), Elijah Kelly (Ralph), Kristopher Gambrell (Mike), Damien McCree (Paul), Anthony Penn (David), and De'Marquavous Daniels (Ali).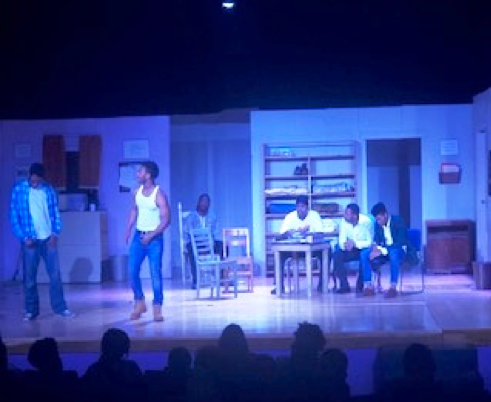 Musicians consisted of Janelle Carter, Caleb Brown, Virgil Lynch, Mario Cloud, Davis Anderson Jr., Pharoah Woodruff, Christian Grier, Brandon Lacey, Pablo Perez, Tyreek Brown, and Matthew Scruggs. Singers consisted of Azhane' Pontoo, Janaizha Johnson, Maliah Watters, Joshua Pegram, Quientin Nicholson, Anthony Penn, Krisopher Gambrell, and Keturah Davis.
Director/Playwright: Charles David Brooks III; Stage Manager: Janaisha McMillan; Media Specialist: Crystal Tysinger; Lighting: James Myers; Sound: Danielle Geaden; Stagehands: Marc Marvens, Myesha Chambers; Set Designer: Wendell Brown; and Set Crew: Myesha Chamber, Lizzy Sledge, Naila Harris, Mya Nelson-Strong. Food items were collected at the Door to donate to a local Shelter.