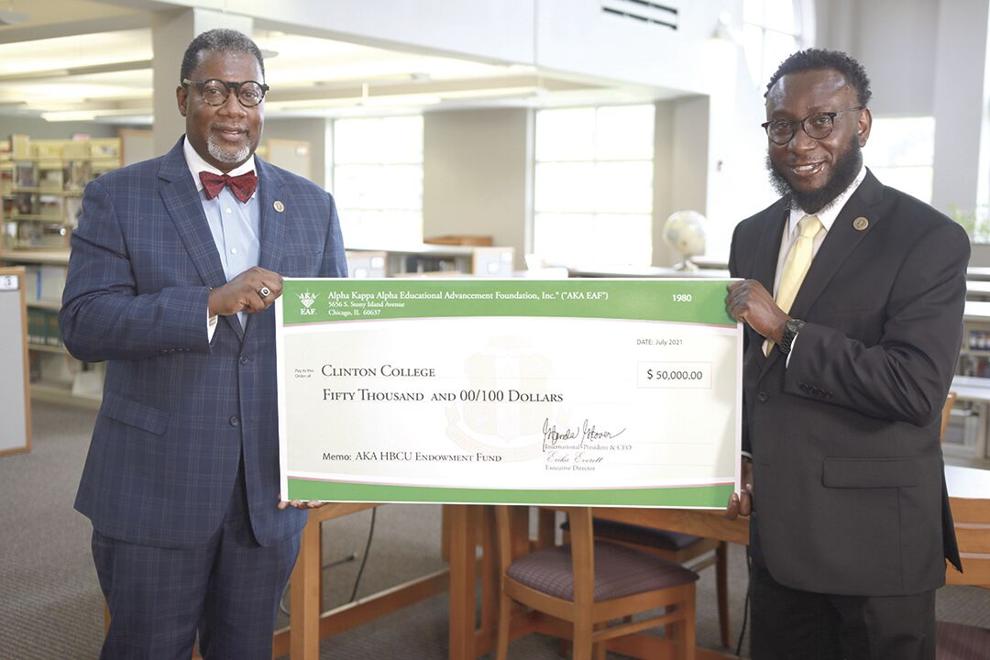 Alpha Kappa Alpha Sorority, Incorporated (AKA), in partnership with the Educational Advancement Foundation (EAF), presented an endowment in the amount of $50,000 to Clinton College as a part of the organization's AKA-HBCU Endowment Fund.
At its recent virtual international convention, the AKA Educational Advancement Foundation presented unrestricted endowment funds to 35 schools, including Clinton.
"It is undeniable that HBCUs cultivate leaders whose impact is felt locally in their communities and globally around the world. We are proud to have fully committed our endowment funds to these deserving schools and their students," said President Glover. "Our investment lends credence to the significance of HBCUs and underscores their contributions to the world."
"We are very appreciative of Alpha Kappa Alpha Sorority, Inc, and International President Dr. Glenda Glover for this generous gift," said Dr. Lester McCorn, president of Clinton College. "This endowment will help in providing financial support to our students as we continue to prepare them to become transformative leaders in a global society."
More on Alpha Kappa Alpha Sorority, Inc.
Alpha Kappa Alpha Sorority, Incorporated (AKA) is an international service organization that was founded on the campus of Howard University in Washington, D.C. in 1908. It is the oldest Greek letter organization established by African-American college-educated women. Alpha Kappa Alpha is comprised of nearly 300,000 members in more than 1000 graduate and undergraduate chapters in the United States, Liberia, the Bahamas, the U.S. Virgin Islands, Germany, South Korea, Bermuda, Japan, Canada, South Africa and the Middle East. Led by International President Glenda Glover, Ph.D, JD, CPA, Alpha Kappa Alpha is often hailed as "America's premier Greek-letter organization for African-American women." For more information on Alpha Kappa Alpha Sorority and its programs, visit www.AKA1908.com. For more information on Educational Advancement Foundation, visit www.AKAEAF.org.
About Clinton College
Clinton College is a historically black, private institution founded in 1894 by the African Methodist Episcopal Zion Church. Today, the doors of the institution are open to all, those who have achieved academically and to those who have yet to reach their full potential. The mission of Clinton College is to create a holistic environment that cultivates an inclusive community of students, faculty, staff, and administrators who are prepared to excel in academic achievement; experience moral and spiritual growth; demonstrate positive and effective leadership skills as lifetime citizens in a global society. For more information about Clinton College please visit www.clintoncollege.edu.