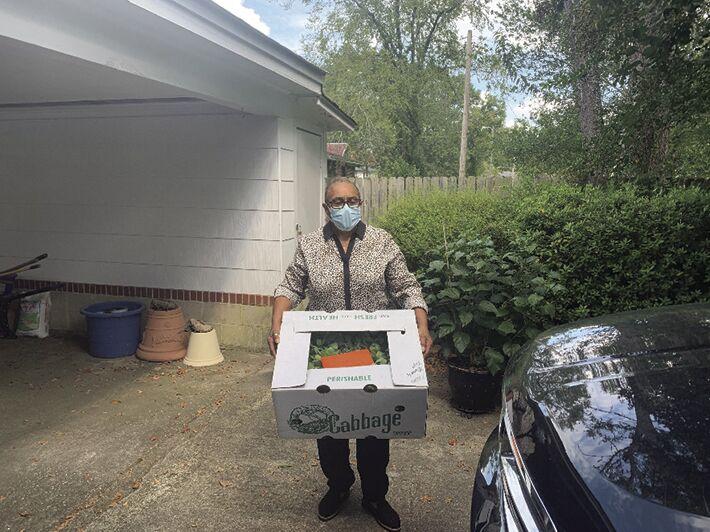 To support the need for sustainable agriculture and natural resources in Marlboro County, the SC State 1890 Research & Extension Pee Dee Region re-launched its Collards Project in response to the growing food insecurity crisis impacting families. With food deserts being one of the key social determinants of health concerns globally and across the state, regional director Deborah Hardison made it her mission to feed families in communities with limited access to fresh and affordable food across the county.
"To address some of the health concerns and food disparities, we wanted to provide fresh food options to the areas that are affected the most," Hardison stated. "Through the Collards Project, our growers provided organic collards to 13 families in Bennettsville and surrounding areas."
Bennettsville, the Marlboro County governmental seat, is recognized for its rich soil and agricultural community; however, a significant portion of its community members are affected by various lifestyle diseases due to limited access to affordable and nutritional food. To help eliminate this problem, Hardison reached out to the city's newly elected mayor, Dr. Carolyn Prince.
Prince made history in 2020 when she was elected the first African American mayor in Bennettsville's 200-year history. Her compassion for the community she serves is deeply rooted in her family legacy of educators, entrepreneurs and public service advocates.
"Mayor Prince knows this community," said Hardison. "She was instrumental in getting the produce delivered to families."
Prince personally delivered the collards to families in Bennettsville and Clio plagued by food insecurities.
"The Collards Project was a godsend," said Prince. "We are so appreciative of SC State 1890 for their generous donation. Our Clio residents have a nine-mile commute to the nearest grocery store and I personally delivered the greens to families and seniors in the area that have fixed-income and limited access to transportation.
A horticulturist, Prince also tends to her 50-by-70-foot community garden. Weekly she collects vegetables such as squash, okra, collards and cabbage to deliver to families throughout the county.
"I like to call it a labor of love," she stated. "Ninety-nine percent of what I consume comes from my garden. I mix my own fertilizer and I know where my food comes from; therefore, it brings me great joy when I deliver to these families because I know that they are receiving nutritional value."
Currently, Hardison is working to fill the vacant position for sustainable agriculture and natural resources extension agent. In the meantime, she is committed to continuing the Collards Project in other cities across the Pee Dee Region by pouring knowledge into the minds of the region's growing youth to bring them back to their roots.
"In order for us to elevate as a community, we must invest. Through our upcoming program initiatives, we will be able to educate families about the benefits of organic foods, agriculture and natural resources."
Extension agents in the Pee Dee region continue to work to identify community needs across the region that will benefit from their community garden projects and other health initiatives.
For more information on the Collards Project or future events in the Pee Dee region, contact Deborah Hardison, dbrown114@scsu.edu or visit scsu.edu/1890.aspx.