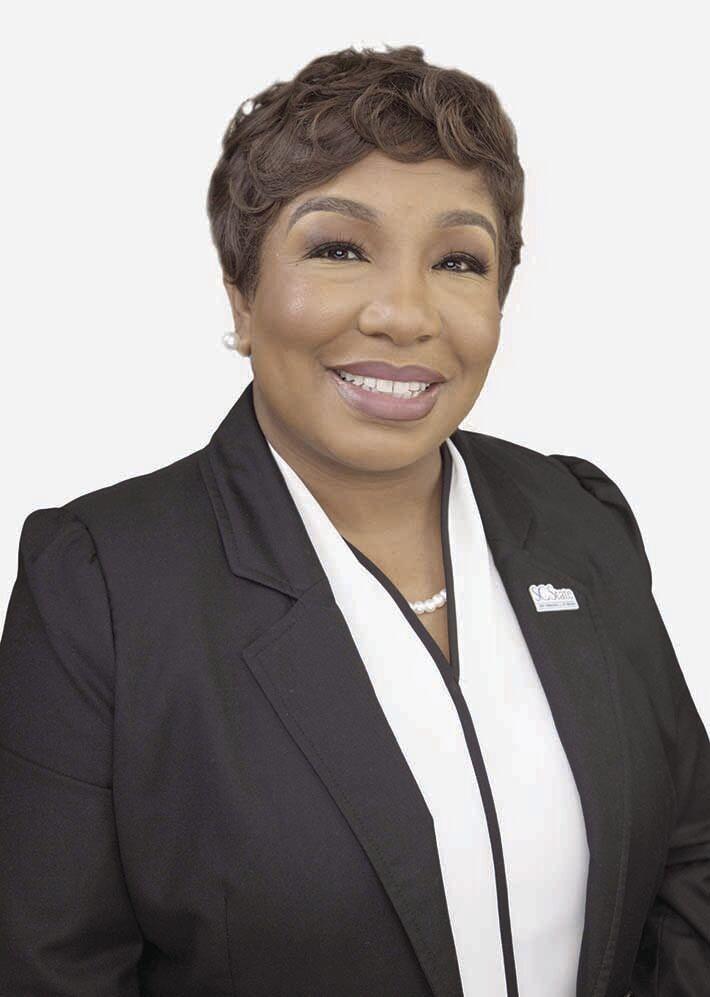 A familiar face will spearhead the SC State University 1890 Research & Extension 4-H Youth Development program's mission to provide learning opportunities and enhance the quality of living for communities across South Carolina. SC State 1890 named Demier Z. Richardson-Sanders, '99, state program leader of the 4-H Youth Development Program.
"To invest in our future means to invest in our youth," Richardson-Sanders stated.
"Therefore, I am excited to learn and continue to develop programs and provide resources that will equip our young people with the necessary skills needed for them to become successful leaders."
4-H is the most extensive youth development program in the nation focused on providing hands-on learning opportunities that contribute to community development. Through health, science, agriculture and civic engagement, the 4-H Youth Development program at SC State 1890 offers innovative learning opportunities that encourage proactive leadership through 4-H's: head, heart, hands and health.
"I am elated to have Mrs. Richardson-Sanders as head of our state youth programs," Dr. Louis Whitesides, vice president and executive director of the 1890 Research & Extension program, stated.
"She is persistent and passionate about serving others, particularly youth. Due to her selflessness and willingness to uplift others, Mrs. Richardson-Sanders has a documented tradition of encouraging change within others. I am confident that she will continue to advance the mission of the 1890 Extension Program and inspire the next generation of leaders."
Committed to community outreach, Richardson-Sanders has devoted more than two decades to serving and empowering communities across the state. In her previous role as the senior director of community education, she created programs for all ages. An educator by nature, Richardson-Sanders has developed summer camps and after-school activities for K-12 children. Additionally, Richardson-Sanders has also provided adult education classes to senior citizens, believe that learning is a continual process regardless of age.
Richardson-Sanders is a true champion in the community who understands that opportunity lies in the middle of difficulty. Annual after-school programs and summer camps offered by the extension program were canceled the previous year due to the pandemic's safety regulations, which prompted a rewarding response.
"The pandemic forced us to focus on what we could control. By reorganizing and restructuring, we adjusted by finding innovative ways to continue our curriculum through hybrid learning options," the community educator stated.
Through her experience as an educator, she led her team of extension agents on a virtual quest to serve the needs of communities across the state. The team developed online interactive programs like the Virtual Summer Reading Book Club to keep students engaged while strengthening their literacy and social skills.
"Mrs. Richardson-Sanders encouraged us to keep our focus on the overall goal but to alter our plan for that goal," said extension agent and virtual book club director, Sydney Keith.
"We were challenged to find ways to continue our mission and enhance not only our students' quality of living, but she challenged each individual extension agent's strength and weaknesses as well."
Richardson-Sanders is a graduate of SC State University and holds a Bachelor of Science degree in elementary education. She earned her master's in education from Cambridge College and has more than 20 years of professional education experience.
She is a 24-year member of Alpha Kappa Alpha Sorority, Incorporated, and served as the Beta Sigma Chapter (SC State) graduate advisor from 2015-2016. A dedicated servant, she is a 2014 graduate of Leadership South Carolina, where she currently serves as a board member. She is a volunteer with the Orangeburg County Chamber of Commerce Christmas Parade and a member of the SC State University Charleston Alumni Chapter, where she served as vice president in 2008 and earned the SC State University National Alumni Association "Young Alumnus of the Year". She is also a life member of the SC State University National Alumni Association.
Richardson-Sanders has received recognition for her efforts in the community throughout the years. In 2009 she was named the Staff Employee of the Year by the Division of Research and Economic Development at SC State University. In 2013 she was awarded the 1890 Excellence in Extension Award for 4-H Youth Development by the Association of Extension Administrators. In 2019 she received the President's Award from Alpha Kappa Alpha Sorority, Incorporated, Beta Zeta Omega chapter.
A native of Charleston, S.C., Richardson-Sanders is married to Dwayne Sanders.
For more information on programs offered by 4-H Youth Development, contact Demier Z. Richardson-Sanders at dricha6@scsu.edu or visit www.scsu.edu/1890.aspx.