Voorhees College exceeds fundraising goals at UNCF Luncheon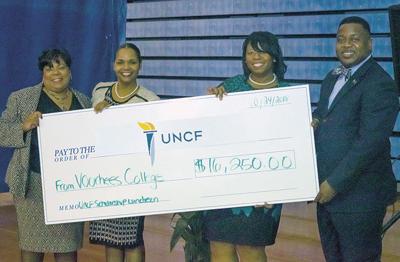 Voorhees College raised more than $16,000 at its recent 5th annual UNCF Corporate and Community Luncheon held on October 24. With more than 200 people, attendees included Denmark Mayor Dr. Gerald Wright, UNCF representative Rosalind McGinnis, other elected officials, alumni, faculty, staff, and students.
The purpose of the UNCF Corporate and Community luncheon was to bring corporate and community leaders in Bamberg County and the surrounding areas together in providing scholarship support to students at Voorhees College and to highlight past scholarship recipients in an effort to showcase the benefits of giving. In the five years the institution has held the event, more than $50,000 has been raised toward UNCF scholarships.
During the event, current and previous scholarship recipients were recognized. This year, scholarship recipients, James Williams, senior, psychology major, and Imani Pinkney, senior, sociology major, gave testimonials on how Voorhees impacted their lives and why their scholarships are essential.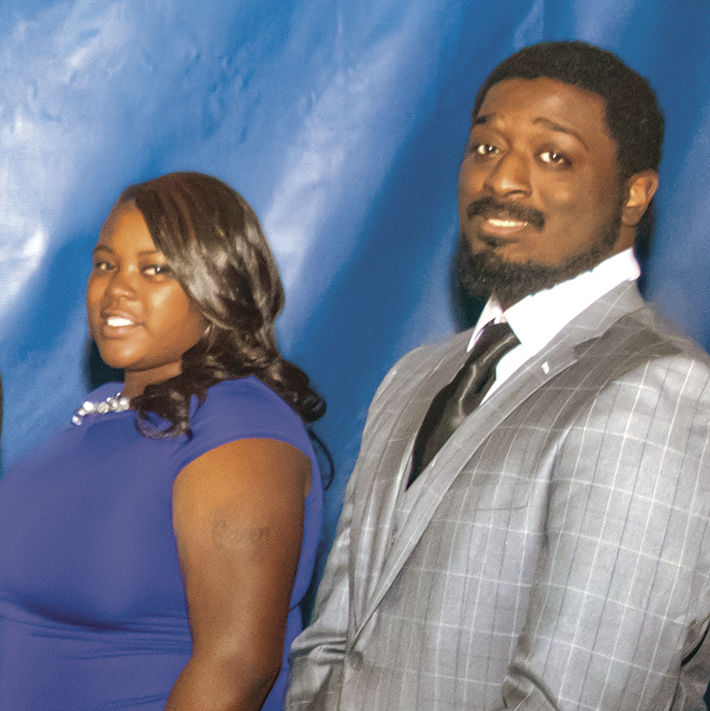 Pinckney said she struggled with diabetes and the loss of her grandmother that left her unsure about her future after graduation.
"Missing my grandmother and the difficulties with my diabetes made me want to stay closer to home and added challenges in my search for "the right" college. My older sister, who is a Voorhees College alumna, convinced me that Voorhees College was the right choice. Voorhees became my new beginning and I am thankful," Pinckney said.
Williams said after first attending other institutions, transferring to Voorhees was what he needed to focus on earning a college degree.
"It is through the generosity of the Voorhees administration that I am able to be a part of the rich fabric of Voorhees College. I have realized many things about myself and life and what I want for both. I hope the students who follow after me will be afforded the same reality," Williams said.
Dr. Teesa Brunson, UNCF Corporate and Community Luncheon coordinator and development officer for major and planned gifts at Voorhees, said this year has been the most successful luncheon since it was established in 2014.
"This event could not have been as successful without the support of the Denmark community, alumni, and members of the Voorhees College family. I want to sincerely thank all of our donors, supporters, and community and corporate leaders for their invested support in the students of Voorhees College," Brunson said.
President W. Franklin Evans said having additional opportunities for students to be able to afford higher education is extremely important. "UNCF scholarships assist in making sure Voorhees can provide a quality education to our students," Evans said. "Voorhees College is proud to be one of the HBCUs affiliated with UNCF."
Von Gaskin, meteorologist at WIS-TV in Columbia, S.C, served as the emcee for the event. A native of Lake City, S.C., she has been on the WIS meteorologist team for eight years. Gaskin has an extensive background in tropical forecasting, severe weather tracking, and radar interpretation.
For more information, contact the Office of Communications, at 803-780-1191 or at