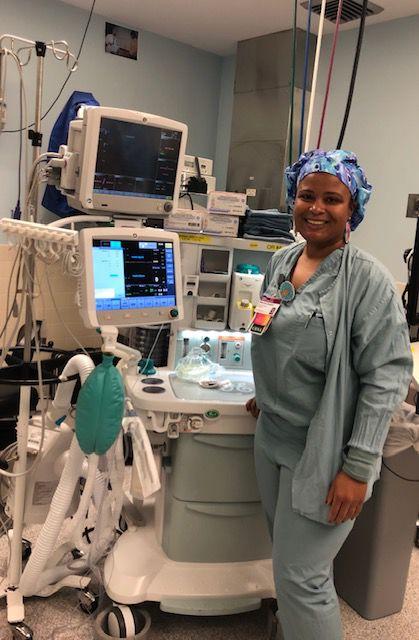 As an African American nurse anesthetist, I feel uniquely qualified to deliver an important—perhaps even life-saving—message to South Carolina's African American community about COVID-19.
Certified Registered Nurse Anesthetists (CRNAs) provide anesthesia for a living, allowing patients to undergo essential healthcare procedures such as surgery, trauma care, and labor and delivery. However, for many CRNAs, the pandemic has temporarily changed our roles. Because COVID-19 viciously attacks the lungs, and because CRNAs are airway and critical care experts, we have been recruited to the front lines of the pandemic to intubate victims of COVID-19, operate ventilators, and manage intensive care units filled with critically ill patients.
My message to African Americans is this. It has been widely reported that we are contracting and dying from COVID-19 in far greater percentages than any other ethnic group. Without question, socio-economic disparities are a major contributor to this discrepancy. But in my view, as a front-line provider caring for patients in the middle of a relentless pandemic, those are matters to be dealt with another day—once the spread of COVID-19 is under control.
For the present, there are things that we as African Americans must focus on to remain safe during this pandemic. They are as follows:
• Don't believe misinformation on social media and the internet that most African Americans are actually immune from COVID-19. This could not be further from the truth.
• African Americans have a higher rate of pre-existing conditions such as hypertension and diabetes which increase our risk of dying from COVID-19. If this applies to you, don't take any chances! Wear a mask, be sure to use appropriate physical distancing, and stay home as much as you possibly can. These precautions really do help!
• Ours is a social culture. We like to gather in groups. However, social distancing doesn't only apply to strangers and friends, it also applies to family members who don't live under your roof. Do not assume that because they are family that they have been responsible about physical distancing.
• About that mask: Be sure to wear it correctly, which means snugly over your nose and mouth. Exposing your nose but covering your mouth amounts to not wearing a mask at all!
• Use hand sanitizer when in public (if you can find any in the stores, that is). More importantly, wash your hands for at least 20 seconds with soap and water regularly, especially after you've been out.
• Keep your children home when going to the store unless it's absolutely necessary to bring them.
• If you think you've been exposed to the virus, or if you are experiencing any of the symptoms associated with COVID-19 (such as a dry cough, sore throat, difficulty breathing, fever, loss of taste or smell), seek a test. (Be sure to find out where you might need to go before you or a family member need to go there!)
Even though states are starting to relax social distancing guidelines, you must still act responsibly by protecting yourself and your loved ones. Don't underestimate the threat of COVID-19. Take steps to keep yourself, your family, and your friends as safe from the coronavirus as possible. Keep telling yourself: This isn't going to last forever.