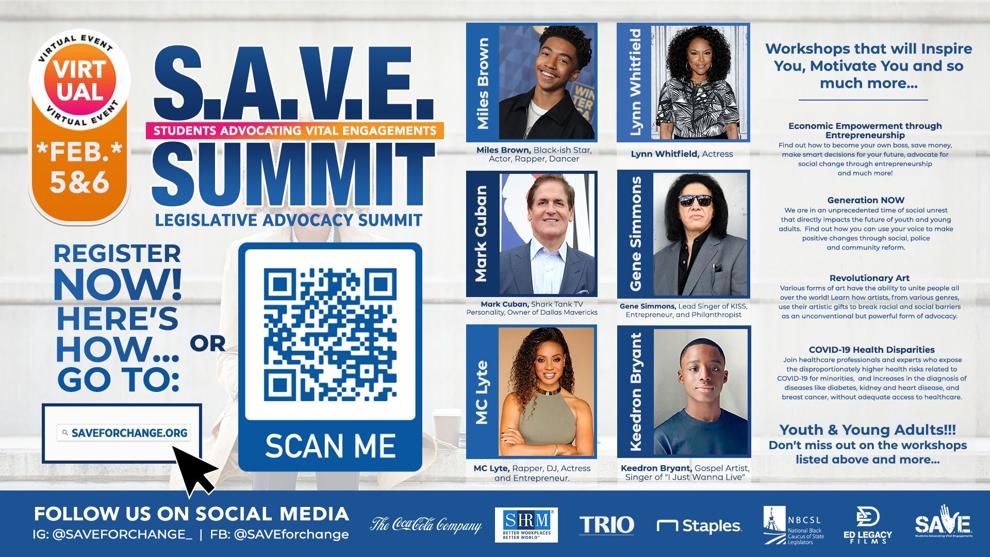 S.A.V.E. (Students Advocating for Vital Engagements) is an organization founded to inspire and galvanize young people to use their voices for change. Its debut Summit will take place virtually on February 5 and 6 and is available to any high school or college student. They can sign up for free at www.saveforchange.org. Students are also being sourced nationwide by directors of TRIO Programs, Federal outreach and student services programs that provide services for individuals from underserved communities.
S.A.V.E. is partnered with the 700-member National Black Caucus of State Legislators (NBCSL), representing more than 50 million Americans of various racial and ethnic backgrounds, which has worked diligently over the last several years to include students in their programs as a means of giving them the tools to learn about and implement their civic duties.
The S.A.V.E. Summit will present workshops with the help of experts and celebrities, notably Mark Cuban, MC Lyte, Gene Simmons, Metta World Peace, Senator Steven Roberts (R Kansas), Professor Kendrick Roberson and more, who will offer their experience and knowledge. The umbrella topics to be discussed include Police & Community Reform (Students Against Violent Engagements), Economic Equality (Students Addressing & Valuing Economics), Voting Rights (Students Advocating for Voting Expansion), Environmental Justice (Students Against Violating the Earth) and Health Disparities (Students Advancing Vitality & Exercise).
Negative Exposure, a new film to be released in Spring 2021, will be viewed by the Youth Summit attendees on February 5, with a discussion the following day. The compelling and controversial film addresses relevant contemporary social issues. The provocative inferred question posed by the film is "What if" the tables were turned, and young white men were victimized and targeted by Black law enforcement?
In addition, the movie Negative Exposure has served as a catalyst for the NBCSL to pass a resolution to address community development and police reform, named after the fictional main character of the film. The J.A.Y.son (Just As Your Son) resolution will serve as a tool for State legislators to bring back to their states for inclusion in their efforts to move police reform forward.