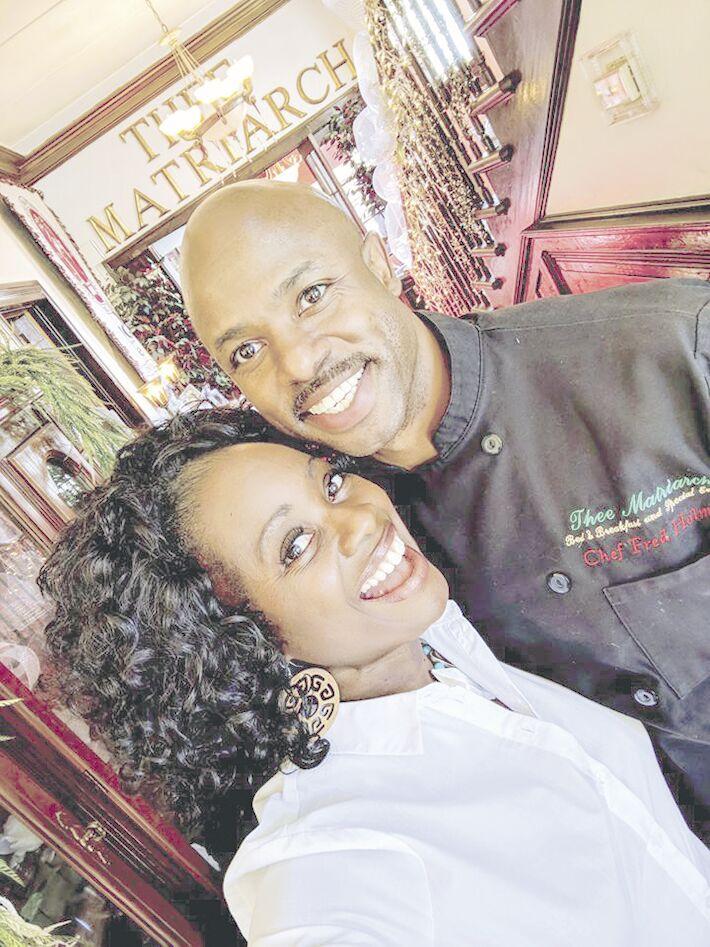 In the heart of downtown Orangeburg, SC, Thee Matriarch Bed & Breakfast welcomes guests from all over with its charm and southern hospitality. Innkeepers Chef Fred and Rachelle Jamerson Holmes manage the 100 year-old home, offering lodging, event spaces, and full service catering. With 11,861 positive coronavirus cases confirmed in South Carolina, and 189 specifically in Orangeburg, businesses have not only had to adapt, but close within this climate to implement safety first. As a full-time small business owner within the hospitality industry, Rachelle relates to these changes firsthand.
"We heeded to the situation, and that was basically March 11, which was our last day of accepting any business. Anything that we had that fit within the parameters of the governor's mandates in what could be done in business, those reservations we allowed. The world was under siege, so from March through April, we were playing it by day. We were servicing cancellations, not reservations."
As businesses have had to adapt, these measures have not been met without economic impacts.
"We chose to close for the safety of our guests, our inn, and not knowing the parameters of the virus. We had dates booked out in advance, but they had to be cancelled. We were willing to cater if someone needed it, but no one's having any big events. Our willingness is there," said Rachelle.
Between the stay-at-home orders and other restrictions over the past few months, the effects of limited to no customers have been challenging.
"When you're a small business and this is your livelihood and this is what you're doing for your community, it's a blindside and disheartening. Unless you are a full-time small business owner and this is the way that you earn money, no one understands. Everyday you are creating your income, and when something like this happens, the ripple effect of it is mind-blowing," she continued.
Although the B&B has not been open to showcase its hospitality, that aspect has not left its owners.
"We are still willing to help customers, and people in general, in any way. If someone is traveling and needs rest and is gracious enough to call us to book a room, although we are closed, I feel that it is my duty to give them recommendations on hotels in the area. I can't guarantee that they're open, but I'm willing to give them numbers of other hotels to help them find a place to stay, even though we don't see profit," said Rachelle.
Not only does Rachelle help customers, but she and her husband partake in intentional spending at other small businesses to help them as well.
"Our goal is to see what small business can we spend with. How can we help? How can we partner? How can we boost each other? In times of crisis, it's how we can help each other. If we're the only business standing after this, that's not a community. Beyond COVID-19, this is how we do things and how we've always done things. The situation has changed, but the focus is still the same when it comes to small businesses."
As the economy begins to reopen, there is still a lingering uncertainty about the foreseeable future that leads to internal conversations of operating in a space of "new normal."
"We're survivors and we're pivoting like everybody else. I'm constantly a part of Zoom webinars for the industry, and the first thing we want to make sure of is that we're moving forward with safety in mind. Safety for our guests and ourselves is first and foremost. If we're not here - there is no business. That's how we're approaching this - with common sense and instructions from governmental entities. Every industry is restructuring, not just hospitality. Clientele/guests have to be comfortable even if we open up; they drive the foot traffic. We're all clients to someone, so we have to look at our own restrictions. It's not about us; it's about compassion for our guests, other small business owners, family and friends. We're all in this together," said Rachelle.
Today, Thee Matriarch Bed & Breakfast is moving forward in re-opening in lodging, event mini-space, and catering. The innkeepers have been conversing with other inns and creating safety measures to slowly open with the guidelines set forth. Rachelle's Island Beverages is also open for catering pickup and delivery, in which customers can call to order at (803) 937-4271. For additional booking or catering information, please visit http://www.theematriarch.com.
Rachelle's hospitality shines through both her personal and business perspectives, especially in her final food for thought.
"If this has not taught anyone anything, it has taught us how much we are interdependent on each other and every person's role in society is important," she said. "There are no big I's and little u's. Everybody's important."
June National Sweet Tea Month and June 10 National Sweet Tea Day. The Holmes are also the owners of the World-Famous Rachelle's Island Tea. The brand is the still the current champion for having the best sweet tea. Their tea has racked up several awards:
• 1st Place People's Choice BEST Sweet Tea Winners for the World Famous Rachelle's Island Tea at the Summerville Sweet Tea Festival in September 2018 & 2019
• 1st Place BEST Sweet Champions in the Taste of Black Columbia 2019.
For more information, to reserve your stay or an event at Thee Matriarch, visit www.TheeMatriarch.com, call 803.937.4271 or visit the Boutique Inn at 1170 Fischer St. Orangeburg, SC 29115. Follow the boutique inn on Google Plus, Facebook, Twitter, Instagram and Pinterest.