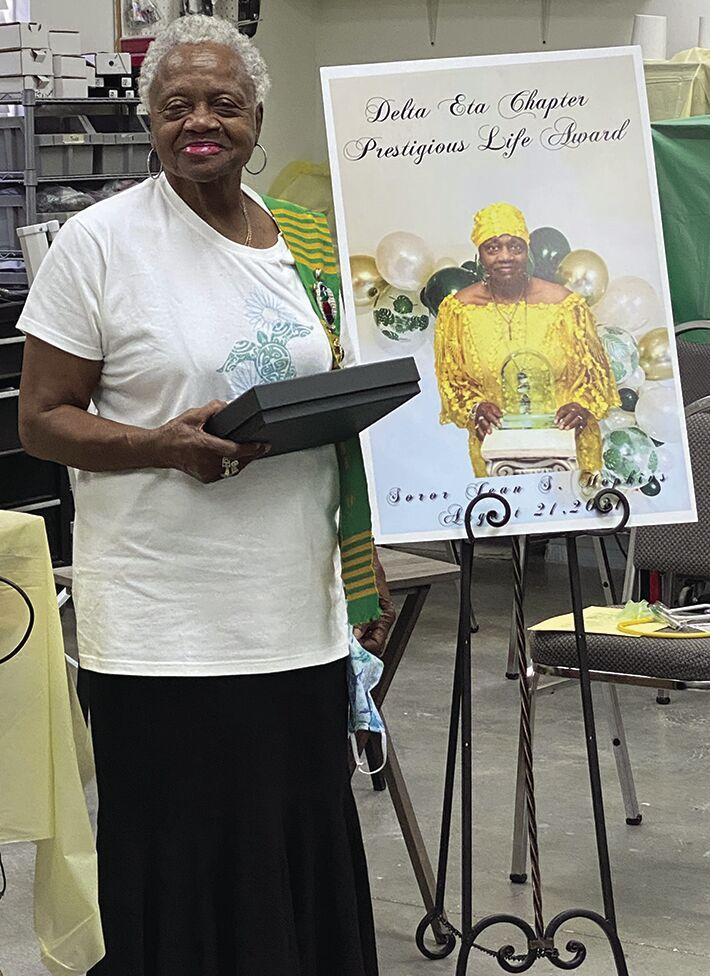 Delta Eta Chapter Inc.® of Chi Eta Phi Sorority, Inc.® established a new chapter award, the Delta Eta Prestigious Life Award, to honor the legacy of Ms. Jean Sanders Hopkins. In 1982 Ms. Hopkins and 11 other professional nurses, chartered Delta Eta chapter in Columbia, SC. Ms. Hopkins has been a dedicated member since its inception, that is 38 years of uninterrupted service with Delta Eta. She has led the organization as she served in the roles of chapter President, Vice president, chaired countless community service programs and partnerships.
The chapter has recognized Ms. Hopkins recently as the Delta Eta 2021 Soror (Member) of the Year. However, Delta Eta members unanimously decided that Ms. Hopkin's extraordinary service to Delta Eta Chapter and our community over decades was more befitting of an award such as the Delta Eta Prestigious Life Award. This award being establish as the chapter's highest award, has unique eligibility criteria that frames Ms. Hopkin's service. To be considered for this award a member must have 38 years or more of continuous service with Delta Eta Chapter, serve in a leadership capacity, demonstrate significant contributions to the chapter and community, be an active member of Delta Eta and age 90 years or older. On August 21, 2021 at the Delta Eta Annual Retreat Ms. Hopkins was the inaugural recipient of the Delta Eta Prestigious Life Award, which ascertains her lifelong active membership without associated fees. Ms. Hopkins at the age of 90 continues to serve.
The 2021-2022 Scholarship and Awards Committee members are: Mrs. Jettiva Belton, Mrs. Sheila Brown, Dr. Kim Gilmore- Co-chair, Dr. Cameo Green, Dr. Leslie Hodges- Jackson, Dr. Gwenneth Simmonds, and Dr. Tara Smalls, Chair. Mrs. Versie Wilson is the president of Delta Eta Chapter. To learn more about Delta Eta Chapter Inc.® of Chi Eta Phi Sorority, Inc.®, a professional nursing organization visit deltaeta-chietaphi.org.