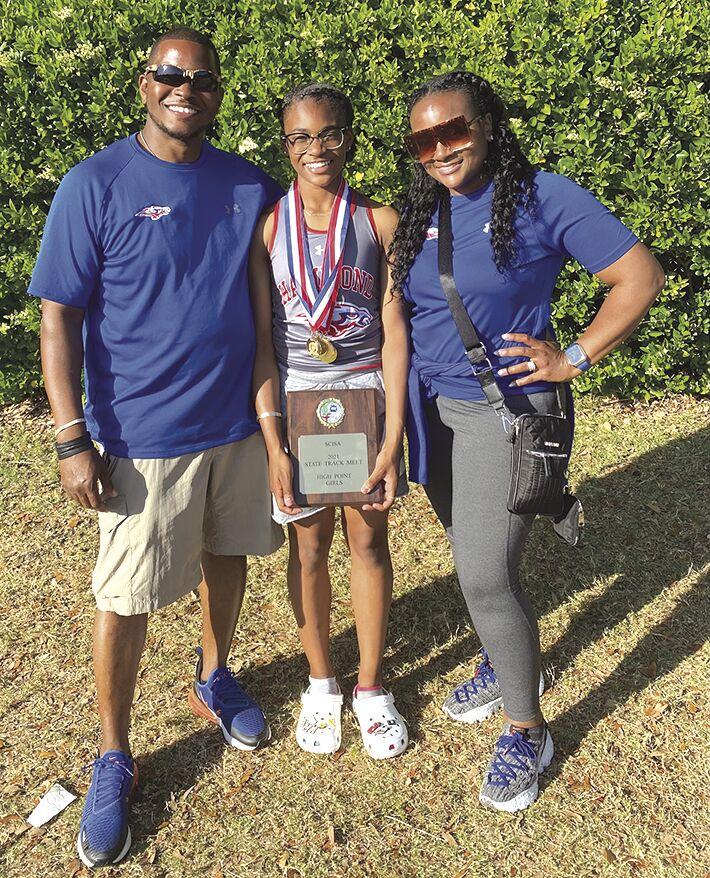 The 2021 Track & Field has concluded at Hammond School scores with stats that brings Bayli M. Aiken out the starting blocks to finish the 2020-2021 season, as a Winner.
Bayli M. Aiken (13 Years old- 7th Grader Middle School) of Columbia, placed 1st, [May 01] in a field of varsity track high school runners, at the SCISA AAA State Track Championships in Charleston, SC earning MVP by scoring 38 out of 40 possible individual points.
Aiken running primarily against older competitors in the High School Championship placed 1st in the 100m Sprints running 12.22 seconds to set a new SCISA AAA 100m State Record. Her other races were also remarkable placing 1st in the Girls 100m hurdles 16.09 seconds, placed 1st 400m hurdles 108.44 seconds, and placed 2nd in Girls 200m Sprint 25.67 seconds.
The impressive performance was just one of many for Bayli, who now holds Hammond School's record for remarkable track and field times including the 100m 12.15 seconds and 200m 25.43 seconds.
Aiken has been in training for one year with Coach Bralyn Bennet who is, himself, a lifelong competitive runner. Her training with a combination of motivation and drive resulted in remarkable improvement throughout the season.
Bayli M. Aiken is the daughter of Vonda M. Aiken and Barry M. Aiken [Alumni of Hammond School], who was himself an elite runner in High School and College.
Aiken is definitely one to watch. Follow Bayli M. Aiken this Summer as she competes in the AAU and USATF Outdoor Track and Field Events. Follow Bayli M. Aiken on Instagram at bayliaiken.