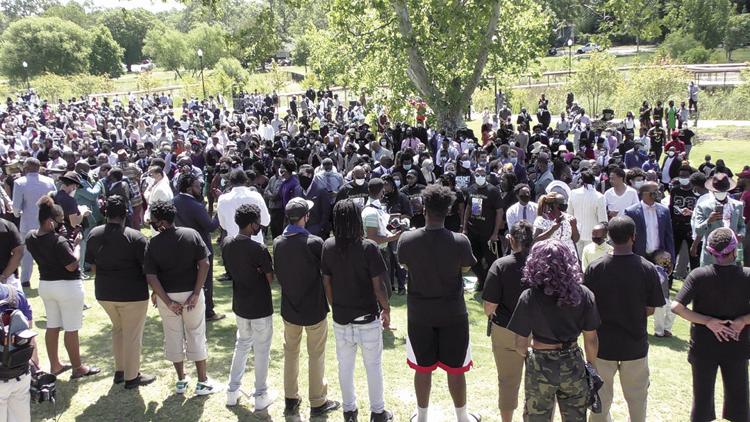 Thousands of well-dressed people came out to support the Million Man March, held in Columbia on Sunday, June 14, 2020. The well-planned march was organized by the Rise of A Nation organizer Leo Jones. The march paid homage to the original Million Man March, held in 1995, which was also designed to show Black men in a positive light.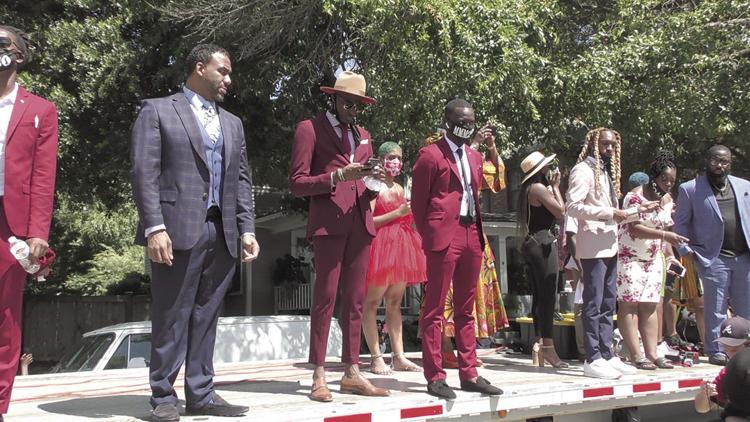 Jones said that he was inspired to organize the march because of media coverage of the previous peaceful protests over the killing of George Floyd, a Minnesota man whose videotaped killing by Minneapolis police officers set off worldwide protests over police violence. Jones said that media coverage focused on riots started by troublemakers after the peaceful rallies were over instead of the issues raised by the protesters.
"After the march last Saturday, I was angry," Jones recalled. "We spoke peacefully but when I got home and watched the news, I saw a riot. They did everything they had to do to distort our image. And I didn't like it. Across the media today, you see riots. But before every riot there is a peaceful protest. Why don't they show that? They have a hidden agenda."
Jones' goal is to change the narrative. Sunday's march started at Martin Luther King, Jr. Park. The rally began with a prayer, followed by a passionate speech by Monique Blanding, sister of Leroy Blanding, who died under questionable circumstances while in police custody. Blanding was accompanied by a relative who demonstrated how her brother was handcuffed and shackled in belly and ankle chains while being transported back to South Carolina. According to the officers transporting him, despite his very limited mobility, Leroy managed to escape from the vehicle and run into the woods, where he was found still shackled. Law enforcement officials said Blanding died of a heart attack. The Blanding family believes that he was lynched by the officers.
"We are still fighting for justice," Monique said. "Y'all are going to stop killing us and telling us anything. You will be held accountable. There is no statute of limitation on murder."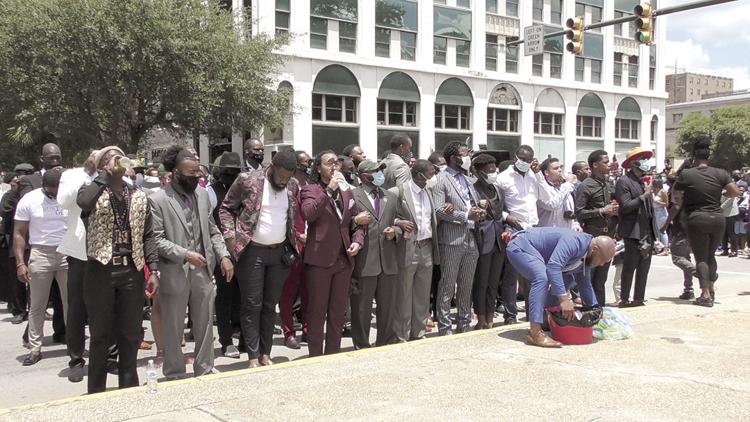 After the rally, marchers lined up and marched to South Carolina State House. The State House rally was kicked off with a prayer, followed by a resounding rendition of Lift Every Voice & Sing. Activist Asia Blue reminded the crowd of the importance of the occasion by singing Billie Holiday's anti-lynching song Strange Fruit, before reciting a passionate spoken word poem decrying injustice and police brutality.
Other speaks asked the crowd to invest in their own community by supporting Black-owned businesses, registering to vote, and holding politicians accountable to the community.
Columbia Mayor Steve Benjamin thanked the organizers of the march.
"What a powerful image this shows to rest of the world," Benjamin said. "I want to thank Leo, Eddie, Jazz, Ashley and the rest of the amazing organizers of this march."
Mayor Benjamin went on to say that America watched George Floyd's murder in which the Minneapolis cop pressed his knee on Floyd's neck for 8 minutes 48 seconds.
"Will you be willing to give that much time each day to fundamentally change your community," Benjamin asked. "That's just one hour a week. One hour a week seeking social justice. One hour a week mentoring a child. One hour a week sitting face to face with a police officer making him understand your stories and sharing your pain. This community needs you now more than ever. One hour a week is all that your mayor is asking of you."
The mayor then introduced march organizer Leo Jones.
"We have beautiful cops out there, but we also have bad cops out there. You have good cops that get it, but you also have those that don't get it. When you see the bad cops or hear them speaking negatively about us, I need you (good cops) to speak up. How can we bridge the gap if y'all are not going to bridge the gap?"
Jones told the older generation to be more respectful of young people.
"I need you to stop pouring hardship on the younger generation, because we are doing good," Jones said. "If the younger generation isn't doing anything, explain to me how everyone on my team is under 34. The youth did this!"
Jones implored the crowd to stick together and to support Black businesses.
"Let's circulate that dollar," Jones said. "If your friend has a business, support that business and don't ask for a discount."
Jones ended his speech by saying that despite the current hardships, he is optimistic about the future.
"Seeing this makes me believe that the youth and the generation coming up is going to be all right," Jones said. "This ain't the end, because we got a lot to say."