Molina Healthcare celebrates people making a difference in the community
Molina Healthcare of South Carolina presented three individuals with its Community Champions Award at the 5th annual event celebrating outstanding community leaders and advocates for the underserved throughout the state. Each honoree received a trophy and a $3,000 grant to donate back to nonprofit organization(s) of their choice.
"At Molina Healthcare, it is our privilege and responsibility to recognize and reward the unsung heroes who tirelessly work to improve the health of our communities every day," said Dora Wilson, President of Molina Healthcare of South Carolina. "Each recipient sets an example to others in their respective communities that giving back – no matter how, why, where or to whom – is noble and worthy of celebration. We owe those daily heroes in our communities a debt of gratitude."
The evening's honorees included:
• Jamal Stroud of Columbia,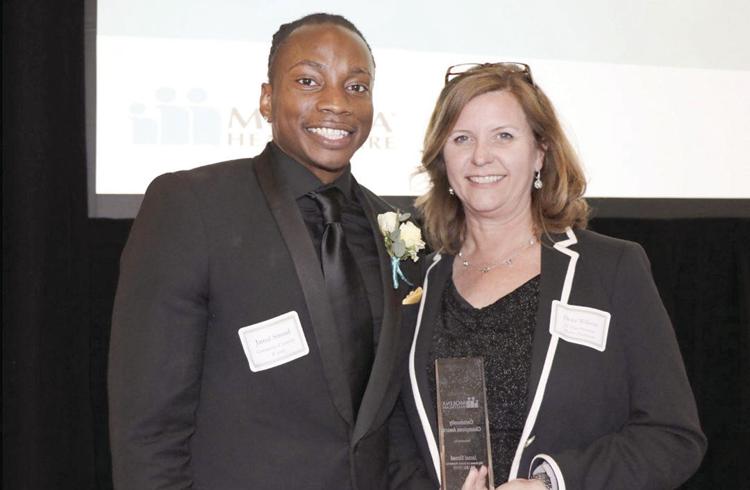 the founder of Big Homie Lil Homie, which is a mentoring program for young males throughout Columbia, particularly at-risk youth and those that live in single-parent homes. In addition to his full-time position as an adoption specialist with the Department of Social Services, he makes being a positive influence in approximately 100 children's lives in Richland County a full-time commitment. To further pay it forward, Jamal also established a $1,000 scholarship for an undergraduate student at his alma mater, Allen University, while he was in graduate school.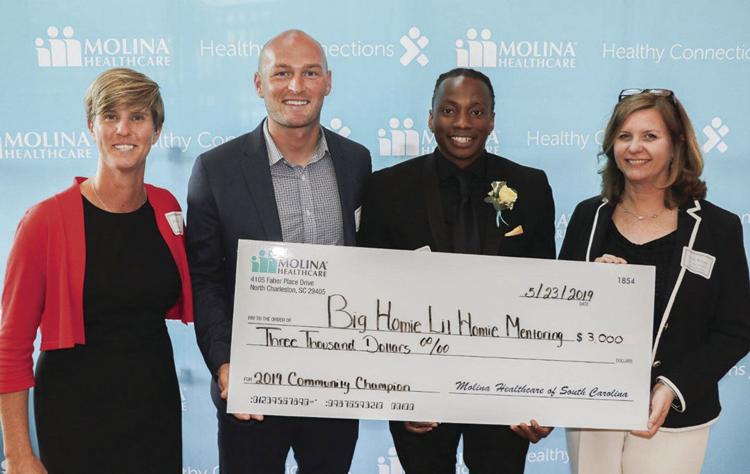 Jamal is donating his $3,000 grant back to Big Homie Lil Homie, so they can continue to guide and nurture their young mentees.
• Taryn Copeland of Greenville, a dedicated volunteer to the Project Host soup kitchen, where she has served more than 1,000 hours of her free time and has fed at least 70,000 individuals over the last three years. She commits three days out of her week to helping at Project Host, cooking for and serving their guests. Taryn has an unmatched contagious energy and even volunteers on major holidays such as Thanksgiving and Christmas, despite having her own family commitments. Taryn is splitting her $3,000 grant between Project Host and Meals on Wheels of Greenville County, so they two organizations can continue to feed their communities.
• Shanika Maples Aiken of Orangeburg,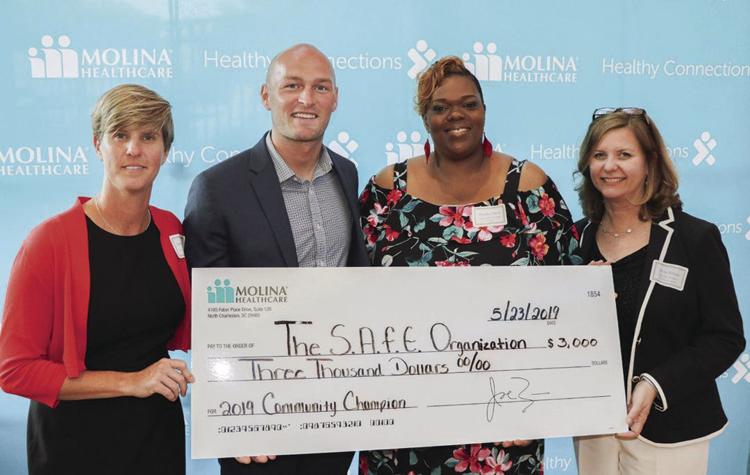 a woman who has spent well over 2,000 hours volunteering for various organizations, including the Department of Juvenile Justice, Save the Children, Orangeburg Coalition for Youth Empowerment, Orangeburg Community Action Group and more. She is the president of The S.A.F.E. (Self-esteem, advocacy, faith and education) Organization, which she founded to help and guide local youth as they navigate through the social issues challenging them in today's world. Shanika is contributing her $3,000 grant to The S.A.F.E. Organization so they can continue providing a safe haven for kids in the greater Orangeburg area.
Molina's Community Champions were honored at the EdVenture Children's Museum on Thursday, May 23. Connor Shaw, NFL veteran and former University of South Carolina quarterback who is one of Molina Healthcare's partners, was present at the event and gave the keynote address.
In addition to staff members from numerous nonprofit organizations who were present, the event was also attended by Freddie Gault, Outreach Director for Congressman William Timmons, and Briana Bateman, Representative for U.S. Senator Tim Scott. Upon completion of the awards presentation, attendees were invited to explore the museum and continue enjoying food and refreshments. Fox Audio Visual provided their services during the event.