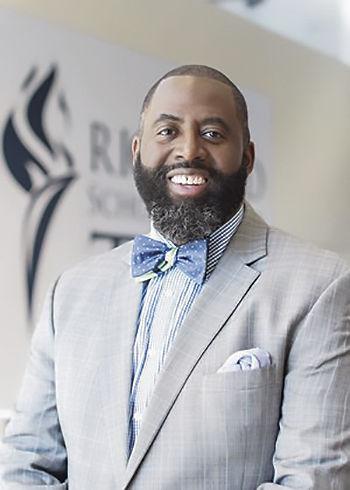 Consciously and methodically integrating diversity and inclusion efforts into the mission of Richland School District Two has earned Superintendent Dr. Baron R. Davis a place on a watch list of progressive superintendents. K-12 Dive, a publication covering education news, has named Dr. Davis one of four Superintendents to Watch. Dr. Davis' placement on the list was based on his launching of the Premier 100 initiative to recruit and retain male and minority teachers, increasing the number of underrepresented students taking Advanced Placement courses, and the successful passage of a $468 million bond referendum in 2018.
"I am humbled by the recognition of the work we are doing in Richland Two. I am proud to join my colleagues from around the country in doing this much needed work for all students and thankful for our school board, administrators, teachers, community and others who are helping to guide these efforts," said Dr. Davis.
For the 2020-2021 school year, Dr. Davis has identified several areas of work for focused attention, including COVID-19 response; Technology needs of students; Legislative issues and advocacy; Sense of being valued among employees; Social justice and Equity; and the Learning and Opportunity Gap. A work group is being established to identify, prioritize and rectify areas of inequity in the school district and a separate work group is being established to identify knowledge and opportunity gaps, the reasons for the gaps and to make recommendations for eliminating the gaps.
K-12 Dive is the latest to recognize Dr. Davis. In December, AASA, The School Superintendents Association awarded him the 2021 Dr. Effie H. Jones Humanitarian Award for his commitment to promote innovative structures to achieve equity and excellence. Additionally, the Greater Columbia Community Relations Council presented him the Hyman Rubin Sr. Distinguished Service Award for his exceptional commitment to addressing issues of equity, diversity and inclusion.
The other three superintendents on K-12 Dive's list are Scott Muri of Ector County Independent School District in Texas, Susana Cordova of Dallas Independent School District in Texas, and Aaron Spence of Virginia Beach City Public Schools in Virginia.