Greetings Community Family! I am L. Oveta Glover, your Columbia Branch NAACP president. Since I have been in office, I have strived to be transparent about the goals and activities of your Columbia SC Branch of the NAACP. I desire to keep the community up to date on what we are doing and accomplishing as we traverse these challenging times.
As a reminder, the mission of the NAACP is to ensure the political, educational, social and economic equality of rights of all persons. We are not a political entity; we are a non-partisan organization. In keeping with the goals of transparency and community advocacy, your Columbia Branch has kept its fingers on the pulse of the community under my leadership as president with the Executive committee, Standing committee members and you. Without you, nothing could be accomplished!
So, what has your Columbia Branch NAACP been doing this past year? Keeping it's boots on the ground and doing the work of the community. Even through this challenging unprecedented year of 2020, we were able to accomplish many objectives.
Starting January 2020 as a team we have participated, organized, and marched! Here are a few highlights.
We began a $25,000 Capital campaign kick off to help fund the activities that branch needs to be effective in the community. We are continuing that campaign this year.
For the first time in many years, we have secured a permanent place of business for the branch which gives us stability and availability to serve the community better.
We now have an updated new phone system that goes directly to the president, secretary, and assistant secretary. This was accomplished so that we could address the issues of the community more succinctly.
January 2020 brought the MLK Jr. yearly celebration speaker Rev. Chris Levey Johnson to address the community about how we continue to fight and get into good trouble. In February, the Youth council presented its Black History program to highlight how we got over and continue to be influenced today by our youth.
The death of George Floyd brought many marches and events that the Columbia branch supported and participated in including the Columbia Branch Young Adult PEACE MARCH and Rally at the SC State house with guest speaker Mr. Antjuan Seawright Political Strategists; The Million Man March and other activism events supporting and advocating for the fact that Black Lives Matter. We hosted a Health initiative with free COVID-19 testing, HIV AIDS/STI testing including free flu shots, Santa and his toy give away.
We have initiated Forums to inform the community of the importance of the presidential and local elections and even forums on education, veteran affairs, and health. In the same vein we adopted the national "Get Out To VOTE" champaign for the NAACP voter registration drive. Additionally, we served voters in line at the polls, refreshments, music, and fun during the weeks leading up to and including the presidential election, trying to make the process a little more bearable. We were also involved in the Columbia Housing Authority forums which were held weekly.
We did not miss a beat this year when COVID-19 hit, we immediately began holding our meetings virtually so that our members could continue to gather and give information collectively. Our meetings consistently have 60 – 100 members join via Zoom so that we can continue the operations of the branch and serve the community.
Wanting to be more effective, inspire, empower and educate, I implemented many additional activities to grow the branch through membership drives and standard committee presentations at the general meetings including the Buffalo Soldiers, and the upcoming health presentation with Dr. Linda Bell, DHEC's chief epidemiologist.
For our reach to extend further, this year we implemented our branch website, Facebook, Twitter and Instagram pages. We are excited to share what is going on through these social media sites
Joining the NAACP has become easier as well because we now have an online registration form for the Columbia branch, and membership dues are payable through PayPal and Cashapp.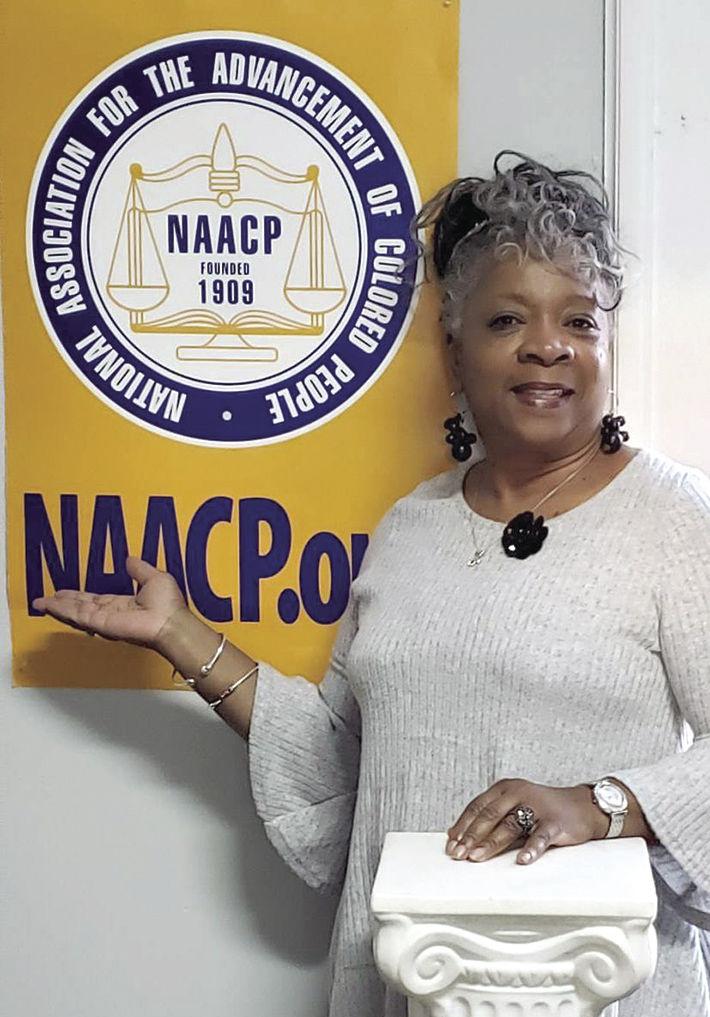 Lastly, your Columbia Branch has several upcoming events that are important to the community. In January, our annual Martin Luther King Jr. Celebration will be held virtually on January 17, 2021 @ 4:00 PM. We will jumpstart out Communal Training Selection Committee and Religious Affairs "Gun Violence initiative and we are launching the Columbia Branch Housing Navigation Initiative. We need YOU!
We, the Columbia Branch of the NAACP want to continue to get into good trouble, but we need you! Our 2021 theme is "Still, We Rise" and we want you to join us today as we encourage "Healthiness, Hope and Happiness!"
It has been my pleasure serving the community as President and it will continue to be my pleasure to serve.