The West Columbia Tigers Youth Football Program started their holiday celebrations early after its 10 and under team (10U) captured their first ever national title at the Amateur Athletic Union (AAU) National Championship Series played earlier this month at Orlando, Fla.  West Columbia blanked Future Stars United of Lakeland, Fla., 38-0, to capture the championship.
The Tigers' history-making season also included becoming the first South Carolina AAU youth football program to win championships in four age divisions in one year.  West Columbia's 12U, 10U, 8U, and 6U teams all won state titles.  The 6U team also won a national title, while the 12U and 8U teams advanced to the semifinals before losing in the playoffs.
"It's a great feeling, said Head Coach Jermaine Odom. "It's great for the kids, parents, coaches, the community -- everyone who has supported this program. This was a nine-month process. We had some problems early in the season but we knew this was a talented team. Once they began playing together, the team got better and better as the season progressed.  But we knew from the beginning they were capable of winning a championship."
West Columbia's 10U team rolled to an unblemished 16-0 record. The Tigers were 7-0 in pool play at the National Championships.
"We played as hard as we could in every game.  That's why we were 16-0," said Kai Finkebeimer, who earned "Lineman of the Game" honors when the Tigers defeated the Dillon Predators to win the state title.
"We did not want to lose in the state finals like we did last year.  We kept our heads up, stayed focus, and went all the way," said Finkbeimer, a fifth grader at Northside Christian Academy.
West Columbia Tigers football program is coordinated by the Brookland Lakeview Empowerment Center (BLEC), a 94,000 square-foot facility located on Batchelor Street in West Columbia.  The BLEC offers a variety of activities to more than 200 youth including football, basketball, baseball, track, cheerleading and dancing, in addition to tutoring and mentoring.  The BLEC functions as one of several community outreach initiatives conducted by Brookland Baptist Church under the leadership of the church's senior pastor, the Rev. Dr. Charles B. Jackson, Sr. The facility was formerly Lakeview Senior High School, an all-black high school in Columbia that existed from 1925 to 1968 prior to the desegregation of public schools in South Carolina.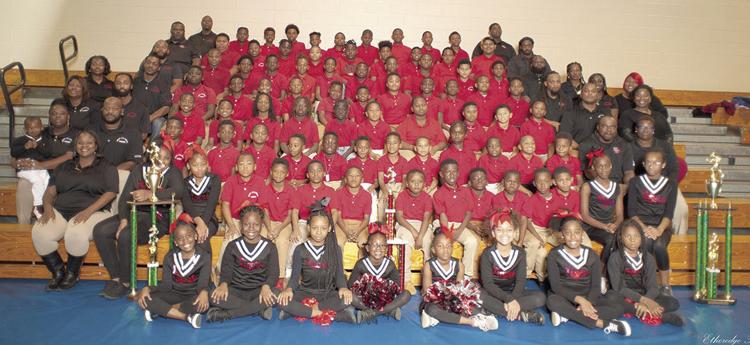 Bennie Sulton, a 1964 Lakeview High School graduate, serves as chairman of the BLEC's Board of Directors.  To Sulton, the Tigers' football success is the continuation of the legacy of outstanding achievements that he and other alumni established as students decades ago.
"Lakeview High School had a well-deserved reputation for excellence in athletics and academics," said Sulton who was a member of the 1963 Lakeview football team that was undefeated and captured a state title.  The school also won back-to-back championships in 1954 and 1955.  "Many of our graduates launched successful careers in business, theology, medicine, education, government and other professions from what we learned here at Lakeview High School," said Sulton, who returned to Columbia following his retirement from a Fortune 500 company.
For Darrell Hutto, director of the BLEC's youth programs since 2007, West Columbia's third trip to the nationals was indeed a charm.  His teams had reached the nationals on two previous occasions, but fell short of the championship.  This year was different.
"I am very proud of the way our kids played throughout the season and at the nationals," Hutto said.  "It was an uphill battle. You look forward to making it to Orlando but you know it's going to be a tough environment because practically all of the teams are from Florida.  But this team was determined to win a championship and the coaches, parents, and everyone else were all on the same page regarding what it would take for us to win.  We created a family atmosphere and when everyone works together, this is what you get -- a national championship."
Hutto said that in addition to winning, he was equally impressed with the personal development and maturity he witnessed from the players during the season.
"They formed bonds, friendships and trust in each other that made them stronger as a team," Hutto said. "This whole experience was more than about football.  Some of these kids had never traveled outside of South Carolina. They received an education about other areas of the country and were able to play football in the process.  We hope that the athletic and academic programs at the BLEC will inspire and help prepare these kids for productive and meaningful lives in their communities and beyond.  We are very proud of their accomplishments in football and with the other sports teams. But we want them to understand that excelling in the classroom is even more important."